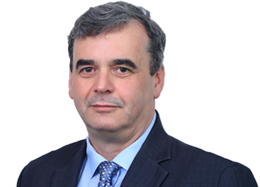 Director of UK, Marine Engineer
BSc, I Eng, MIMarEST, MAE
work Liverpool

---
Career Summary
Brendan Cuffe is an Incorporated Engineer with a First Class Certificate of Competency (Motor) and a BSc (Open) degree. Brendan joined Brookes Bell in 2008 initially in the London office, after ten years' previous surveying experience with two London based Marine Consultancies. Brendan relocated to Shanghai office in 2010 until March 2019 when he returned to Liverpool in the role of Director of UK. Brendan is also responsible for the operations and expansion of our bunkering department and has dealt almost exclusively with bunker dispute cases since 2018. As well as attending vessels to investigate damage and cause when fuel quality is suspected, Brendan works in close co-operation with our chemists, dealing with a range of fuel related matters such as contamination, non-conformance to ISO:8217 specifications, sampling and on board fuel management of problematic fuels.
---
Background
After completing his cadetship in 1983, Brendan remained at sea within the P&O Group until 1997. He sailed on a product carrier, various container ships and passenger Ro-Ro ferries. He has sailed in positions up to and including Chief Engineer and during his time at sea gained considerable experience of the management, operation and maintenance of various marine power plants, including slow and medium speed diesel engines, and their associated equipment.
From 1997 to 1998, Brendan worked as a Plant Engineer on the steam plant at a Combined Cycle Gas Turbine power station, where he was involved in the operation and maintenance of a 250MW impulse steam turbine, supplied by a three stage high pressure heat recovery steam generator and its associated balance of plant.
During his time as a Surveyor, Brendan has carried out General Marine Consultancy work on behalf of Owners, Protection and Indemnity Clubs, Charterers, Underwriters and Marine Lawyers, including the preparation of cases for litigation and arbitration and giving evidence as an expert witness in both Court and Arbitration.
He has worked as a Surveyor on a wide range of ship types and work undertaken has included superficial inspection surveys, condition surveys, Class record inspections and pre-purchase inspections, new buildings disputes, sale and purchase disputes, personal and asbestos related injuries, collisions, engine room flooding and associated machinery damage, engine room fires, cargo gear performance disputes, bunker quality disputes and associated engine damage, main engine bearing failures, crankshaft failures, piston failures, liner failures, intermediate tailshaft failures, seaworthiness disputes, contact damage and failures to rudders, rudder stocks and propellers, rudder loss, ice damage, performance and consumption assessments and hull and machinery claims disputes.
Brendan also has extensive new-building related experience. He has been involved in projects in a variety of shipyards, both State and privately owned, assisting Buyers and Sellers. This work has involved a variety of ship types, including tankers, product/chemical carriers, bulk carriers, container ships and platform supply vessels.
Professional Qualifications
Class 1 Motor Certificate of Competency.
Academic Qualifications
HND Marine Engineering.
BSc.
Professional Status and Membership of Professional Bodies
Incorporated Engineer.
Member of the Institute of Marine Engineering, Science and Technology.
Member of The Academy of Experts.
Previous Employment History
Director Boorman Cuffe & Partners Limited.
Surveyor, Burness Corlett & Partners Limited, London.
Sea Going Employment
Sea Going Experience as Third to Relief Chief Engineer Officer with P&O European Ferries (Dover) Ltd.
Sea Going Experience as Fourth to Third Engineer with P&O Containers Ltd, London.
Surveying and Consultancy Experience
Hull and machinery surveys, including:
Hull and machinery repairs, inspections, assessment of costs, etc.
Main and auxiliary engine failure investigations.
Shafting failures and propeller damages.
Engine room fire and flooding investigations.
Hull contact damages.
Auxiliary boilers & exhaust gas economisers.
Steering gears.
Rudders.
Others:
New construction surveys – defects and readiness for delivery.
Condition surveys.
On-/off-hire and pre-purchase surveys.
Repairers' liability disputes and claims.
Engine/vessel performance assessment.
Bunker quality disputes.
Opinion work on machinery failures and fires.
Collisions.
Hull corrosion.
Personal injuries.
Onboard management/ risk assessment.
Experience of main and auxiliary engines:
Sulzer.
Wärtsilä.
MAN.
MAN B&W.
Mitsubishi.
Hanshin.
Allen.
Pielstick.
Stork-werkspoor.
MAK.
Fiat.
Ruston.
Caterpillar.
Deutz.
Yanmar.
Daihatsu.