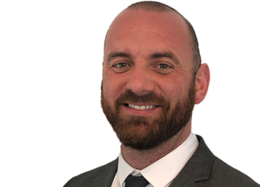 Principal Marine Engineer
IEng/IMarENG, MIMarEST
work Shanghai

---
Career Summary
Curriculum Vitae
Lee Lewtas is a Marine Engineer with an STCW 2010 III/2 Chief Engineer's Unlimited Motor Certificate of Competency and is a member of the Institute of Marine Engineering, Science and Technology.
---
Background
Prior to joining Brookes Bell, Lee spent 13 years at sea, starting on container vessels and then moving on to large Ro-Pax ferries.
In this time, he has gained experience on large 2-stroke engines, but more recently has been sailing as Chief Engineer on large Ro-Pax ferries, gaining considerable experience in the operation and maintenance of medium-speed 4-stroke engines along with all associated ancillary equipment. During this time, Lee has attended numerous dry dockings and in-water surveys, completing major maintenance tasks and compiling work specifications to ensure the vessel complied with Class, statutory and legislative requirements for the operation of passenger vessels.
During his time at sea, Lee has also gained experience in on-board management and risk assessment and has been trained in the maintenance of high voltage systems.
As a surveyor, Lee joined Brookes Bell in 2019 and relocated to Shanghai in 2020. He has attended on various ship types, including tankers, container & bulk vessels. He has performed investigative surveying and consultancy work on behalf of Owners, Protection and Indemnity Clubs, Charterers, Underwriters and Maritime Lawyers.
Professional Qualifications
Class 1 Motor Certificate of Competency
Academic Qualifications
HND Level 5 Marine Engineering.
NVQ3 Marine Engineering Ops.
Professional Status and Membership of Professional Bodies
Incorporated Engineer.
Member of the Institute of Marine Engineering, Science and Technology.
Previous Employment History
Stena Line UK
CMA CGM UK Shipping
Surveying and Consultancy Experience
Hull and machinery repairs, inspections, assessment of costs.
Main and auxiliary engine failure investigations.
Intermediate shaft bearing failure investigations.
Main shafting systems – alignment, failure analysis and repair.
Bow door and hydraulic systems.
Gearboxes and clutches.
Turbocharger failure.
Passenger ship safety certificate.
Hull contact damages.
Auxiliary boilers & exhaust gas economisers.
Steering gears.
Rudders
Repairers' liability disputes and claims.
Engine/vessel performance assessment.
Bunker quality disputes.
Opinion work on machinery failures.
Hull corrosion.
Cargo tank coating system failures
Container ship fire investigation
On-board management/risk assessment.
Experience of main and auxiliary engines
Wärtsilä.
MAN.
MAN B&W.
Yanmar.