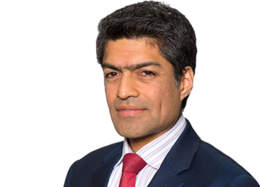 Principal Naval Architect
MEng, PhD
work Miami

---
Career Summary
Curriculum Vitae
Dr Luis Guarin is a Naval Architect with almost 20 years of consultancy experience in ship design, risk assessment as well as research and development.
---
Background
Dr Luis Guarin became Director of Marine Consultancy for Brookes Bell in 2019.
He graduated with an MSc Eng degree in ship structural ship design from the Technical University of Gdansk. He then joined the University of Strathclyde, where he worked in ship stability research, studied for a PhD in naval architecture and worked as a post-graduate research fellow at the Ship Stability Research Centre. During that time, he was responsible for conceiving, carrying out, reporting and promoting research on risk-based ship design and operations.
He joined Safety at Sea Limited in 2002 after receiving his PhD and since then has been working as a naval architect consultant. He specialises in ship safety assurance and technical risk analysis of ship newbuilding and conversion projects of passenger ships, special-purpose offshore vessels. Areas of focus include alternative design, fire safety, access/egress, escape, evacuation and LSA arrangements and redundancy of essential ship systems. He has experience of conducting risk assessments of marine and port operations and he has been involved in Formal Safety Assessment (FSA) studies in the context of National and International (IMO) safety legislation development. He has worked as an expert consultant to the International Maritime Organisation on FSA of passenger ships.
Academic Qualifications
PhD Naval Architecture: Seakeeping in extreme sea states - Department of Naval Architecture & Marine Engineering, Universities of Glasgow & Strathclyde, UK.
Overseas Research Student (ORS) Award.
MSc Eng in Naval Architecture: Structural design and verification of bulk carriers.
Technical University of Gdansk, Poland.
Professional Membership
AMRINA - Associate Member of the Royal Institution of Naval Architects.
Previous Employment History
Project Manager & Principal Consultant
Responsible for formal safety and risk assessment studies on bulk carriers (structural integrity, green water in rough weather, hatch cover design standards, single side skin vs. double side skin bulk carriers' design, corrosion margins), operation of ships in Polar Regions, air and oil pollution from ships, navigation in restricted waters and safety of ro-ro passenger ships, among others.
Extensive participation in safety validation of some of the most innovative features of cruise vessel MV Oasis of the Seas.
Responsible for undertaking escape and evacuation analysis for over 30 passenger vessels including cruise and ro-ro passenger ferries. Overseeing R&D projects on capability building in fire engineering analysis (Knowledge Transfer Partnership program with University of Strathclyde).
Post-Doctoral Research Fellow - Department of Naval Architecture & Marine Engineering, Universities of Glasgow and Strathclyde, UK (seconded from Safety at Sea).
EU FP6 Research Program SAFEDOR – safety in design, operations and regulations. Instrumental in writing the technical proposal on behalf of the University of Strathclyde; Work Package leader and responsible for WP5.1 (risk-based design framework) and deputy representative in the project's steering committee.
Surveying and Consultancy Experience
Involvement in ship design projects:
Alternative ship design and arrangements (fire safety, life-saving appliances, lifts, etc.)
Implementation of Safe Return to Port regulations (cruise vessels)
Arrangement of evacuation and (LSA), escape and evacuation analysis
Fire safety assessment (escape and fire engineering analysis)
Ship design risk assessment (Offshore construction vessels)
Design performance verification
Feasibility assessments of changes in design and/or operation of passenger vessels
Consultancy:
QRA – consequence analysis, vessel's grounding on natural gas pipeline.
Risk assessment – operation of passenger ships in Polar regions.
Manning assessment – normal operations and emergencies for fleet of Ro-Pax vessels.
Assessment of MOB rescue arrangements – fleet of Ro-Ro Pax vessels.
Ro-Pax ferry fleet, safety and reliability performance data analysis.
Crew transfer operation risk assessment.
Fire risk assessment – bulk carrier fleet.
Lightweight dispute during dry-docking of very large bulk carrier.
Cable burial risk assessment – wind farm.
Oil pollution risk assessment – operation of tankers through the Minches.
Safety audit of Recognised Organisation
Assessment of SOx emission control measures for bulk carriers
Risk assessment – operation of oil tankers in the Arctic
Bulk terminal risk assessment – upgrades to berthing facility.
Marine risk assessment – Public Inquiry.
Carriage of dangerous goods – safety case.
Bulk carriers' safety (FSA) – structural design and seaworthiness.
Safety assessment of advanced evacuation systems
Safety of passenger ships operating in domestic waters (on behalf of IMO).
Fire and explosion risk assessments (FERA), escape, evacuation and rescue assessments (EERA) for Mobile Offshore Units (MODU and MOU) and offshore construction vessels.
Safety and security assessment (ISPS Code)– oil bunker terminal.
Failure of windows on cruise ships due to green water.
Structural reliability of bulk carriers' hatch covers.
Research and Development:
Ship systems reliability/vulnerability analysis (in-house tool Systema).
SRtP crew support system.
Escape and evacuation simulation tool (in-house tool EVI).
EC-funded R&D programmes SAFEDOR (FP6), SAFEGUARD (FP7), FLARE (H2020).
Seaworthiness of bulk carriers in extreme weather conditions, numerical analysis and physical model testing in the UK (Denny Tank, Dumbarton), Netherlands (MARIN in Wageningen) and China (CSSRC in Wuxi).
Damage stability analysis and model testing – Stockholm Agreement upgrading of passenger ferries.