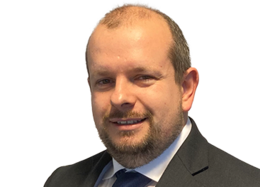 Managing Marine Engineer - Fuel Specialist
MSc, CEng, CMarEng, MIMarEST
work Liverpool

michael.banning@brookesbell.com
---
Career Summary
Michael Banning is a Chartered Engineer and Chartered Marine Engineer with 18 years' experience working within the marine industry. His sea-going career spanned both the Royal Navy and Merchant fleets, having sailed on a variety of vessels including Warships, Very Large Crude Carriers, Liquid Natural Gas Carriers, Product Tankers, General Cargo Vessels and Ro-Ro ferries.
---
Background
Michael expanded his technical knowledge and expertise ashore working for a fuel additive manufacturer, holding the position of Technical Service Manager Marine and as a Technical Consultant, Fuel Specialist and Surveyor at a London based consultancy. Michael's experience includes fuel analysis, product formulation and development, failure analysis, incident investigation, standardisation and specification, energy efficiency management, project management and consultancy.
Michael is an active member in ISO working groups responsible for the Classification and Specification of both traditional and alternative Marine Fuels amongst other industry technical committees. He has assisted the industry with the aim of improving overall fuel quality mitigating risks onboard being involved in the 2017 revision of ISO 8217 and PAS 23263 in the run up to 2020. Michael has continued his committee work and has a
renewed focus on 2030 and 2050 CO2 reduction targets, having been involved in setting up the framework for the inclusion of Biofuels and Alternative Fuels onboard marine vessels in the latest version of these standards.
Professional Qualifications
Chartered Engineer – Engineering Standards Council
Chartered Marine Engineer – Institute of Marine Engineering, Science and Technology
MCA OOW Engineer III/3 Unlimited (Motor)
Dangerous Cargo Endorsements for Petroleum and Liquefied Gases
Academic Qualifications
M.Sc., Engineering and Management, University of Portsmouth, UK, 2017
Professional Memberships
British Standards Institute (BSI) – Member of Technical Committee PTI/002 Liquid Fuels
International Organization for Standardisation – Member of Technical Committee
TC28/SC4/WG6 – Classification and Specification of Marine Fuels
International Organization for Standardisation – Member of Technical Committee TC
28/SC 4/WG 18 Specifications of Alternative Fuels for Marine Applications
Institute of Marine Engineering, Science and Technology (IMarEST) – Member
IMarEST Special Interest Group – Fuels and Emissions
International Bunker Industry Association (IBIA) – Member
IBIA Future Fuels Working Group – Member
Surveying and Consultancy Employment
Technical Consultant, Fuel Specialist and Surveyor, Exponent, 2021 - 2022
Technical Service Manager – Marine, Innospec, 2013 – 2021
Sea going Employment
Marine Engineering Officer, BP Maritime Services, 2010 – 2013
Marine Engineering Officer, Foreland Shipping, 2010
Marine Engineering Officer, Bibby International Services (IOM) Ltd, 2007 – 2009
Marine Engineering Artificer, Royal Navy, 2004 – 2006
Surveying and Consultancy Experience
Bunker Quality Disputes
Main and auxiliary engine failure investigations
Shafting failures
Opinion work on machinery failures and fuel quality issues
Machinery repairs, inspections, assessment of costs, etc.
Engine/vessel performance assessment
Types of main and auxiliary engines:
Sulzer
Wärtsilä
Win GD
MAN
MAN B&W
MAK
Caterpillar
Deutz
Yanmar
Daihatsu