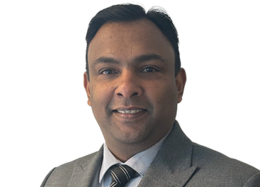 Marine Engineer
HND, MSc
work Liverpool

rushdie.rasheed@brookesbell.com
---
Career Summary
Rushdie is a Marine Engineer with a First Class Certificate of Competency (Motor), HND in Marine Engineering and a Master's Degree in Marine and Offshore Engineering.
---
Background
Prior to joining Brookes Bell, Rushdie served at sea for over 18 years, with seven years as Chief Engineer. He sailed on a variety of ship types including container vessels, general cargo and bulk carriers. He also served as a visiting lecturer for the engine simulator department at CINEC Maritime Campus, Sri Lanka. Rushdie possesses extensive experience in the maintenance and diagnostic investigations of main propulsion engine and auxiliary machinery systems. Rushdie was also responsible for several machinery surveys, vessel drydocks, major retrofits, and management takeover of managed vessels. As part of his master's degree, Rushdie also undertook extensive research in the field of alternative marine fuels.

Professional Qualifications
Certificate of Competency – Chief Engineer (Unlimited) issued by the Maritime and
Coastguard Agency of the United Kingdom
Academic Qualifications
HND in Marine Engineering
MSc in Marine and Offshore Engineering with Distinction
Surveying and Consultancy Employment
Seagoing Employment
Chief Engineer – Anglo-Eastern Ship Management
Second Engineer – Anglo-Eastern Ship Management
Third Engineer – Anglo-Eastern Ship Management, ZIM Integrated Shipping 2008, Pacific Express Lines
Fourth Engineer – Pacific Express Lines, Navalmar Lanka.
Engine Cadet/Junior Engineer – Navalmar Lanka & Baber Ship Management.
Surveying and Consultancy Experience
Main propulsion engines
Auxiliary diesel engines
Bridge manoeuvring and engine control
Exhaust gas cleaning systems (EGCS)
Electrical and industrial automation
Auxiliary boilers and exhaust gas economisers
Engine/vessel performance assessment
Refrigerated container maintenance and failure analysis
Marine power distribution and high voltage systems
Hydro-Electrical Steering gear systems
Vessel drydocking
ISM and ISO 9001:2015 quality management systems
Alternate marine fuels and decarbonisation
Types of main and auxiliary engines:
Sulzer
Wärtsilä
MAN B&W
DMR MAN
MAN B&W
Caterpillar
Deutz
Yanmar
Daihatsu