Brookes Bell in Piraeus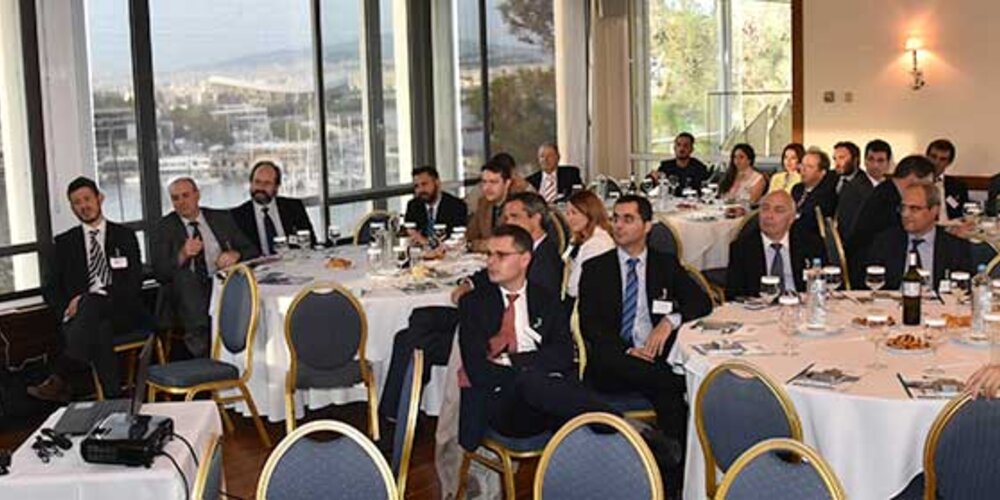 With over 100 guests from a range of lawyers, P&I clubs, ship owners and operators the Brookes Bell evening of presentations and networking was a huge success in Piraeus, Athens on Tuesday 19th April.
A drinks reception took place to welcome the guests at the prestigious Yacht Club of Greece, in the Piraeus port, with guests then being entertained by our specialists, listening to a series of 3 presentations on our services and abilities within our business and the sector.
Colin Kershaw, Managing Partner, kicked off the evening, with an introduction to the business and the importance of hosting such an event, enabling us to share our wide range of expertise with those working in the industry.
Our first speaker subject was forensic engineering, including topics about 'Unusual Wear' by Ray Luukas, Senior Partner and 'Unusual Bunker Claims' by Chris Fisher, Brookes Bell consultant. Then it was on to 'Identifying cargo hazards under the IMSBC Code', presented by Dr. Martin Jonas. With the 3rd presentation given by Adrian Scales and Dr. Kieran Dodworth regarding the re-float of the Good Faith, that occurred in Greece last year. With Q&A's ending the more formal section of the evening, leading into a drinks reception.
Taking in the stunning evening views overlooking the Bay of Piraeus everyone enjoyed a relaxed atmosphere with food and drinks available for the remainder of the evening. A great chance to converse further with those that the Brookes Bell team had met with during their two days in Athens and to meet new people coming into the industry or those they had not previously met with.
The Brookes Bell team looks forward to being in Greece again this year for the Posidonia event.