Brookes Bell working on mitigating battery fire risks at sea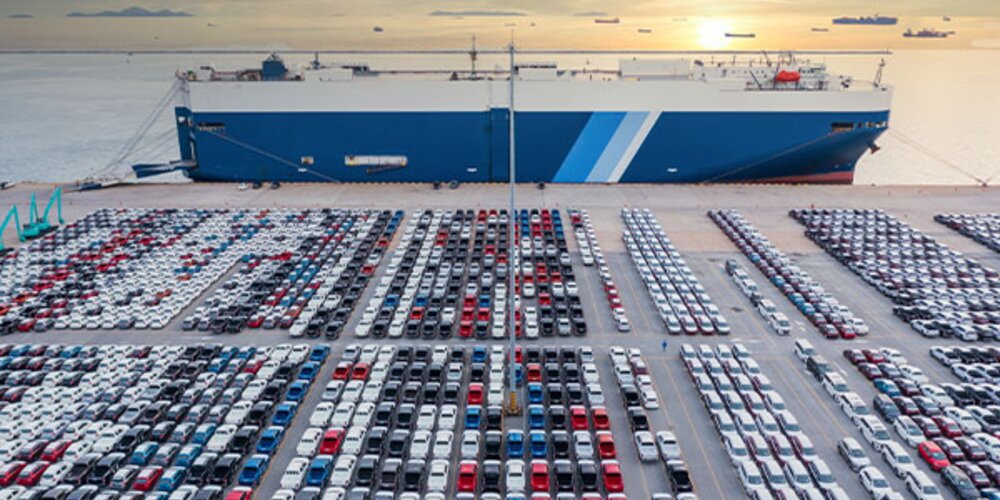 Brookes Bell is heavily involved in an industry-wide effort to manage the risk of lithium-ion battery fires by providing practical guidance to shipowners and managers, particularly car carriers, ro-ro and ro-pax operators. Whilst the volumes of electrical vehicles moved by sea has increased significantly, IMO safety regulations have not kept pace. Many shipping companies are now implementing changes to their safety systems and operational practices which necessarily go well beyond the minimum standards.
Although electrical vehicles are not inherently dangerous, when they do catch fire, the time and response requirements are very different to other fire types. A combination of improved detection systems, vessel design and crew training can help reduce the risk of a runaway fire occurring which is impossible to extinguish.
Adrian Scales, a Chartered Master Mariner and Brookes Bell's Director of Nautical, has been leading Brookes Bell's efforts in this field for the past 24 months. He says:
"My eyes were opened to the scale of the problem following discussions at one of the weekly NW Outport meetings of the Honourable Company of Master Mariners (HCMM). An experienced Second Officer who was working on a cross-Channel ferry raised the topic. Given my background on ferries, it piqued my interest and enabled me to reflect with my own concerns about how vulnerable the people who work on these ships are when it comes to fires on the vehicle decks. The situation was then cemented as a serious problem when I attended as SCR on a ro-pax fire in Greece during early 2022. This event at which lives were lost as the vessel and her cargo were consumed by fire. Around 30% of all passenger vehicles currently carried on cross-Channel ferries are fully electric or hybrid vehicles."
Lithium-ion fires have some extremely challenging characteristics. They create a self -sustaining reaction (thermal runaway) which is very difficult to stop. The battery cell temperature can rise incredibly fast, within milliseconds, and the energy stored is released very suddenly. They are very hot and can reach 1,200 degrees centigrade. They generate significant quantities of toxic and hazardous gases, present electrocution as well as explosion risks.
But dealing with these types of fire at sea brings in even more challenges. On land, large volumes of water are typically used to douse the fire. But on car carriers and ro-pax vessels with large, spacious longitudinal decks, the stability of the vessel is at risk with this approach. Access to the vehicles on a car carrier is typically restricted with little headroom. Expecting crew to deploy fire blankets is not necessarily the answer given that when a car deck is full, it will take 5 –10 minutes to reach a specific car. Fire blankets themselves can weigh between 25kg and 40kg and the crew deployed will be wearing a full fire suit and breathing apparatus, which take another five minutes to put on. Another option might be carbon dioxide douses, but these degrade over time and are in limited supply.
According to Adrian Scales, much of the current fire safety equipment on board may no longer be fit for purpose. Brookes Bell is working with fire responders, authorities and other industry experts to highlight the anticipated and likely problems that will be faced.
The good news is that the industry is already in the process of developing methodologies to deal specifically with the risks of battery fires on board different vessel types.
The main purpose of current discussions is to try an implement is a simple three step process for ships crews as follows:
DETECT as quickly as possible (heat, smoke and gas detectors and ideally CCTV/IR);
CONTAIN as swiftly as possible (drenchers, CO2, Hi-Fog, boundary cooling etc);
PROTECT/EVALUATE review options and perhaps seek clarification and guidance as to the next steps (boundary cooling, fire teams, SCBA approach etc) from Fire Fighting Experts.
Brookes Bell is one of a number of contributors to the Vehicle Carriage Safety Forum (VCSF) which includes a large number of shipowners committed to investing in equipment, retraining crew and learning from each other for Ro-Ro vessels. Thereafter we are also active members of the Cargo Incident Notification System (CINS), a container shipping line initiative which is working in parallel to VCSF is also looking to consolidate the industry's approach. Brookes Bell is also working with the UK Chamber of Shipping and UK Authorities as part on an initiative to ensure sufficient planning and response is in place to deal with an incident on a vessel off the UK coast or in a UK port.
"We know how the ships work," says Adrian Scales. "We are able to work with other experts to evaluate solutions and develop simple response systems which can hopefully be implemented by any crew."
Brookes Bell is able to call on a multi-disciplinary team of 23 Master Mariners who are based variously in the UK, USA and Asia, and work closely with our inhouse fire experts, scientists and engineers. The specialist lithium battery team led by Adrian Scales includes Danny Millett and Karley Smith from the Master Mariner Team and fire specialists Karwei So and Yvonne Tung from the Scientists Team.
The company investigates, troubleshoots and advises on a broad range of marine and energy matters and enjoys a reputation for being the 'go-to' firm for casualty investigation, forensic analysis, technical dispute resolution and expert witness work. Working across the UK, Europe, Asia Pacific and the Americas Brookes Bell has a global presence. Alongside our investigative and expert witness services, Brookes Bell has a state-of-the-art laboratory, The Lab, providing the marine, energy, industrial and manufacturing industries with access to world-class forensic analysis and investigative services.
For more maritime and energy industry news and developments, explore the Brookes Bell News and Knowledge Hub…