IMSBC Code 2020 Edition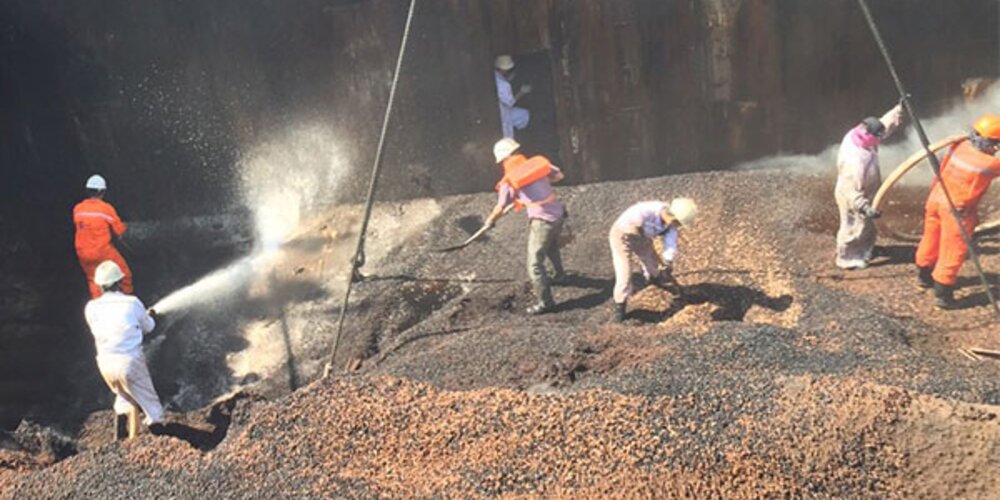 The IMSBC Code concerning the classification of seed cake bulk cargoes has changed. The new regulations which came into force in January 2021, are mandatory and directly affect many in the shipping and P&I market.
Commodities such as soya bean meal, sunflower seed pellets, palm kernel expellers have been shipped for many years in large volumes for animal feed. They are the solid residues left behind when oil is removed from oil-bearing seeds, but they can self-heat and some are spontaneously combustible.
Under the newly amended IMSBC Code, vessels carrying the most commonly encountered seed cake cargoes such as soya bean meal and sunflower seed pellets will now need to carry certification confirming that the material in question has been tested in the N4 test and does not meet the 'material hazardous only when in bulk' self-heating criteria.
The N4 test is a standard UN test where a cube of the commodity in question is held at high temperature in an oven and the tendency for the sample temperature to increase above the oven temperature, is measured.
This is a new requirement, shippers must be aware of their obligation to perform these additional tests prior to loading, while carriers/masters must be vigilant in scrutinising the documentation when asked to load a cargo under this schedule.
For more information, Brookes Bell's cargo scientists have prepared a detailed bulletin about the recent changes to the IMSBC Code, click here to read more (documents at the bottom of the page):
https://www.brookesbell.com/services/marine/scientific-and-cargo-expertise/
The IMSBC Code covers carriage of seed cake cargoes in bulk only. Shipments of seed cake in containers are subject to the provisions of the IMDG Code instead. Although the IMDG Code has not been amended in the same manner as the IMSBC Code, new revised guidelines for the carriage of seed cake in containers have recently been issued jointly by CINS (the Cargo Incident Notification System) and the International Group of P&I Clubs.
Brookes Bell are scientific advisers to CINS and we have contributed to the development of the guidelines. We recommend that shippers and carriers of seed cake in containers consult the CINS guidelines prior to shipment, they can be found here: https://www.cinsnet.com/documents/
Martin Jonas, Director of Science UK has recently talked about bulk cargo hazards under the IMSBC code, covering:
SOLAS and IMO cargo codes
What is it? identifying cargo hazards under the IMSBC Code
Cargo fire and explosion hazards under the IMSBC Code
His webinar can be watched again on the Brookes Bells' YouTube channel, just click here. https://www.youtube.com/watch?v=zQqe2I0Rh_8