Spotlight on: Fire services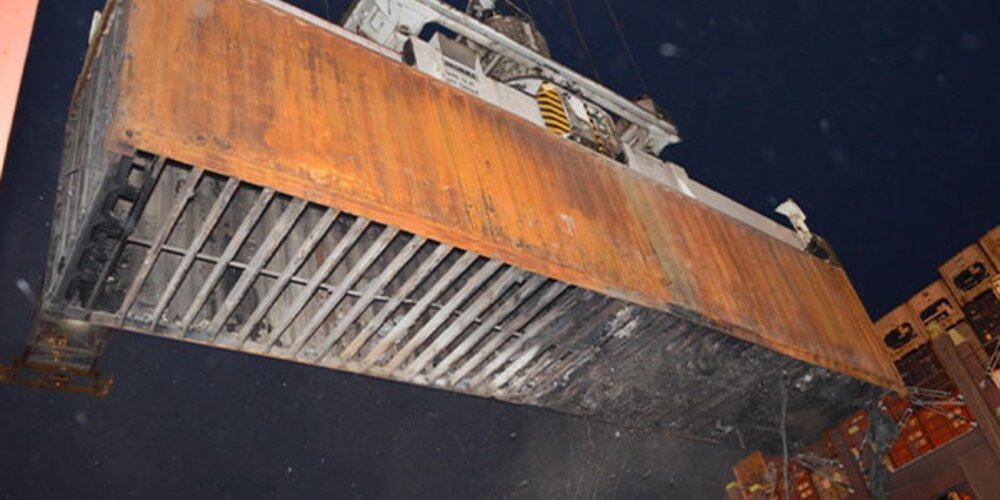 Brookes Bell's fire experts have many years of experience of successfully responding to complex fires in both the civil and criminal sectors, conducting complex investigations all around the world. Here Adrian Scales, Director of Nautical and Lea McDonald, Fire Investigator talk about the challenges associated with investigating a fire onboard a containership.
Adrian explains that: "In recent years there have been several major fire incidents onboard containerships and one of the biggest challenges - is the sheer size of the vessels.
"The largest ULCS' (ultra large container ships) can now carry 24,000 TEU with boxes stacked 11 high above and below deck. The vessel may be 60m wide and 400m long - that's almost three football pitches end to end - with only one, or occasionally two, gangways for access and about 23 crew members.
"Under the SOLAS regulations (the International Convention for Safety of Life at Sea SOLAS) a vessel's firefighting capabilities should aim to 'supress and quickly extinguish a fire in the space or area of origin', but this is not always possible in some of the larger ships.
"Most seafarers have fairly limited firefighting training, and access to the seat of the fire is often difficult and the temperatures may reach as high as 1,000 degrees. The fires may often involve significant quantities of chemicals which are often highly reactive with a high risk of explosion. Using simple fire hoses and jets in such scenarios may prove to be ineffective and could place the seafarers at significant risk."
Lea adds: "From our point of view, the most important thing is to be onsite as quickly as possible. Potential evidence could be lost the longer the fire continues to burn. Early attendance might not necessarily mean that the evidence wouldn't still be lost, but it gives the chance for it to be documented/recorded before that occurs, which could prove vital to the investigation.
"Once the initial event has been successfully brought under control, we will be working to determine the chronology of events, to set the investigation on the right path from the start. We have many years of fire investigating experience, and we are highly skilled at identifying vital clues and establishing the facts in challenging and difficult situations."
"Modern ULCS' generally rely on fixed CO2 systems as the principal method of fighting a fire below deck but these systems may not always be effective with respect to containerised cargoes. Locating the affected containers in such a large ship is challenging and preparing and implementing a re-entry for fire-fighters takes a significant amount of preparation, planning and support.
"CO2 injected at the top of the hold will seldom filter down to the seat of a fire, instead it will often mix with the hot gasses from the fire and escape through the hatch covers. Furthermore, it's very difficult to get CO2 to enter a closed shipping container."
Adrian continues: "The firefighting undertaken by most crew is minimal, possibly seven days of dedicated training during the early stages of their careers with refresher training every five years. This is then coupled with perhaps an hours shipboard training drill taking place every couple of weeks while on board ship. It's really not enough, by comparison shoreside fire fighters will train full time, as that is their primary job. Seafarers onboard a ship are very much focused on their day job where firefighting training and preparation is for emergency situations that they hope will never occur."
On deck, mobile water monitors can be used to fight a fire, but their effectiveness relies on the ability of the crew to safely deploy them. If there are fire tugs or similar vessels with fire-fighting capabilities in the area, extinguishing a major onboard fire while maintaining the seaworthiness of a ULCS is not as simple as just pumping in high-volumes of seawater.
"Too much water will impact the ship's stability and affect bending movements and may cause the structure to buckle with the additional weight. In these circumstances, seawater is vital for boundary cooling but the seat of the fire in a ULCS will still need to be tackled by specialist crews", says Lea.
"The water pumped onboard can in turn complicate matters as any investigation will need to establish what damage was caused by the fire, and what by the firefighting efforts, what damage was unrelated and incidental. And then there's the matter of disposal, in the process of extinguishing the fire, the water may be contaminated and can't simply be returned to the sea.
"An additional complication is that combustion events can re-occur many days into the discharge operations, as lifting the containers off the vessel as part of the salvage operation allows oxygen back into enclosed areas, sometimes resulting in reignition."
He goes on to add: "Many fires on ships are caused by mis- or wrongly declared containers, where the paperwork declares one cargo but the contents are in fact something else, for example a container holding charcoal might actually be listed as feed pellets. Quite a few recent fires investigated by Brookes Bell have been caused by lithium batteries or chemicals, and in such cases Brookes Bell's laboratory services have been invaluable. Our team will work with the metallurgists and chemists to examine metal samples, to identify the causes and prove what exactly happened as the incident progressed.
"We will gather evidence from many sources as possible, everything from documentation, to witness accounts, alarm and maintenance records to CCTV and relevant external or third-party sources. Supported by The Lab, the independent scientists can analyse any findings using a wide range of specialist equipment and investigative technologies, helping us to determine the real cause and related responsibilities."