Spotlight on: Superyachts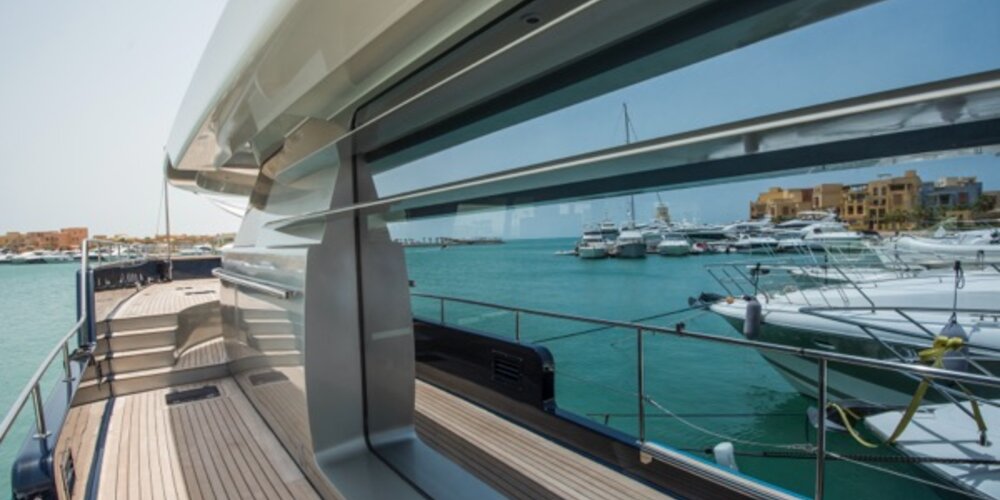 Tom Ainsley's surveying and consultancy expertise covers engine failure investigations, fuel contamination cases, hull or crane damage, bunker disputes and fire investigations. Before joining Brookes Bell, he was at sea for ten years, serving on large RO-RO and offshore vessels.
As a Senior Marine Engineer with Brookes Bell, he also provides specialist advice on superyachts, including technical advice on superyacht newbuild disputes. He has been a crewmember on sail and motor yachts and holds an MCA Yachtmaster Offshore Certificate of Competency. Here he talks about some of Brookes Bell's work in the sector.
Brookes Bell has worked in the superyacht sector for more than 30 years, providing bespoke design support systems, dispute resolution, casualty investigation, tailored software systems, and practical safety solutions.
Over the decades, our team has applied many of the skills and much of the experience acquired through our work across the passenger ship and commercial sectors to the superyacht industry, because, unsurprisingly, there are clear similarities and parallels.
Brookes Bell has an unrivalled depth of experience in litigation support, expert witness work and evidence-based analysis. And the fact that we have a multi-disciplinary team of staff, means that when you are on survey or back in the office, back-up from one of our Material Scientists, Tribologists or Naval Architects for example, is only ever a phone-call away. Along with the lab and our non-destructive testing suite we offer a one-stop-shop facility for investigation and subsequent forensic analysis.
As a result, the superyacht sector has become a key contributor to the business and as the industry has grown exponentially over the last 20 years, so has Brookes Bell's work in this sector.
We have been instructed by Owners, Managers, Designers, Naval Architects, Lawyers and Underwriters, asking Brookes Bell to investigate the root causes of a machinery or component failure or to carry out an accident investigation into a grounding or a fire – if it's a casualty investigation, the procedure for a superyacht will be similar to that for a commercial vessel. On arrival at the site, we will gather evidence and then conduct a comprehensive root cause analysis to determine what factors might have contributed to the failure.
Yachts are often spectacularly designed, and it is always interesting to see technical innovation in the supply of comfort, luxury and service. Being a marine engineer, I'm not just looking at the machinery, as all the systems onboard a superyacht are very interconnected and integrated, and you need to have a very clear idea of what's going on, on the bridge as well as from an engineering point of view.
As new and innovative systems are installed on yachts, their integration with other yacht systems provides a potential for failure. As with all aspects of our job, the practical application of innovative techniques and equipment is always interesting, whether it be a swimming pool design or a hybrid battery system.
At Brookes Bell we cover yachts from 15 metres to over 100 metres, including the very largest yachts in existence today. Most of the Master Mariners and Engineers at Brookes Bell have unlimited tickets which means they are qualified to operate any sized vessel in the world – regardless of whether it's a super tanker or superyacht.
Confidentiality is paramount, because unsurprisingly an incident involving a superyacht may attract more media interest than a bulk carrier, as high net worth individuals attract more public interest. For that reason, confidentiality and discretion is a priority as part of our operating procedures.
As the sole purpose of a superyacht is for the Owner's or Charterer's immediate enjoyment, all our investigations and any repairs must be coordinated with the knowledge that the client will want the yacht back in operation, with causes identified and reported on, as soon as possible, so we are usually working to very tight deadlines.
As with our commercial work, we are on call 24-7.
We are often called in to consult on newbuild contracts when there's a dispute. Sometimes the specification isn't adequate to provide for the needs of a yacht, which could cover anything from the furniture to engines that break down, or it may be that one side feels the other hasn't met their obligations.
Legal cases may span a couple of years as the investigation concludes and the case goes to court. At any one time the team – Patrick Yeoward, Arron Jackaman, Adrian Scales and I - might have several ongoing cases at different stages.
The current trend is for building more yachts, and bigger yachts. Most Northern European yards are currently full. But as designers and owners push the boundaries of design and innovative equipment, we will continue to see machinery failures, build disputes and compatibility issues. Also, looking ahead, as the post COVID yacht market is looking very fluid, we expect to see an increase in demand for condition and pre-purchase surveys for the resale market.