VLSFO bunker fuel contamination on rise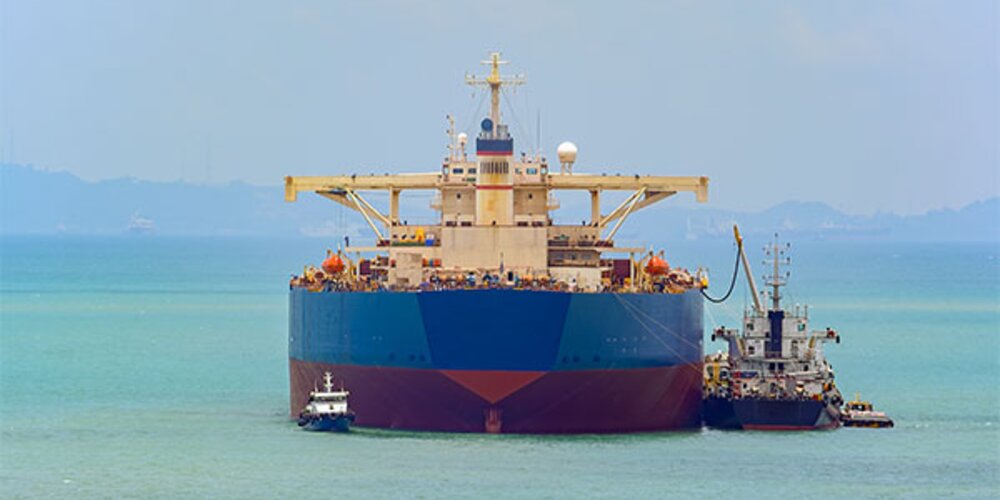 In recent months Brookes Bell has seen a steady rise in clients commissioning in depth forensic tests on contaminated low sulphur fuel oil bunkers delivered in the Antwerp Rotterdam areas (ARA). This is unwelcome news and comes in the wake of the contamination of a batch of high sulphur fuel oil supplied in Singapore earlier this year. This incident affected over 200 ships and this summer led to the two-month suspension of Glencore's licence to supply bunkers in the port of Singapore.
Ship operators were reporting similar problems in both cases, namely corrosion of the components of the fuel injection systems. In most cases, the ISO 8217 standard testing had reported the fuel to be on specification. The Singaporean authorities have since established that high concentration levels of Chlorinated Organic Compounds (COC) (including 1,2-Dichloroethane and Tetrachloroethylene) were present. In the case of the problematic ARA VLSFO bunkers, the distinct features are high, but within specification total acid numbers (TAN), abnormally high potassium levels and the presence of a range of unusual oxygen-containing chemicals (but no COCs).
According to Brendan Cuffe, Director of UK, who heads up Brookes Bell's bunkering team, both incidents highlight an important issue:
"You can meet specification for the standard Table 2 characteristics in ISO 8217, but it doesn't tell you anything about the chemical composition of the fuel."
The standard ISO 8217 'Table 2' Test Requirements involve determining a series of physical and chemical characteristics. These include density, viscosity, sulphur, aluminium and silicon (catalytic fines), water and used lubricating oil, Total Acid Number, ash, Total Sediment Age and flash point of the fuel. However, it is impractical for these specifications to include tests and limits for all possible contaminants that might find their way into marine bunker fuels. There are materials which can adversely affect the fitness of fuel for use in a marine engine, the presence of which is unlikely to be apparent from the basic Table 2 Test Requirements. Only a detailed forensic examination in the laboratory and on board the ship, sometimes involving different disciplines including chemistry, metallurgy and engineering, offers the best opportunity to get to the bottom of the problem.

For the forensic analyst, the difficulties arise in knowing what type of compounds to test for. "There are potentially thousands of chemical compounds and different labs will use different in-house, non-routine investigative tests which do not necessarily identify the same types of contaminants," explains Dr Bryan Ward, Managing Scientist at Brookes Bell. "Then there is no central database that identifies what compounds and at what levels will lead to problems onboard."
Brookes Bell's bunker team is typically commissioned by P&I Clubs on behalf of owners and/or charterers who need a full picture of what has caused their ships problems. In the first instance the team will often be provided with just the routine analysis of samples taken at the time of bunkering, and a factual chronology, together with photos of damaged parts.
The team might suggest gas chromatography mass spectrometry (GC-MS) testing with samples drawn from a variety of sources including sludge and storage tanks.
These could include samples from:
The point of custody transfer, typically taken from the vessel manifold as a continuous drip sample
the storage tanks to establish the quality of the fuel actually delivered
Before and after purifier samples
Engine feed samples, to establish what quality fuel was being delivered to the engines at the time of an incident
Sludge samples taken from strainers, purifiers and filters to identify any impurities within the bunkers. GC is a technique widely used across many industries, but really became more commonly used for bunker tests in the wake of the 2018 US Gulf supplied contaminated bunkers. It is used to analyse thousands of compounds in many different matrices, from solids to gases. It is a robust technique and is easily incorporated with mass spectrometry to identify chemical components.
The Brookes Bell team will liaise with the laboratory and can provide a chemist as a witness to report on the testing and findings and where necessary, engineers to survey the actual damage. The client is then provided with an impartial initial report. From there, if required, Brookes Bell can produce an expert report if litigation is contemplated. Brookes Bell experts specialise in preparing such reports and are experienced in giving evidence at arbitration and court. But to be successful in court, evidence will need to have been collected and documented correctly. This involves liaising directly with all personnel on the scene and, where necessary, providing advice on the gathering of evidence (inspection, document retrieval, sampling and subsequent local or UK analysis).
The eight strong team consists of five chemists and three engineers, with significant sea-time experience who between are able to provide the necessary multi-discipline expert opinion.
See www.brookesbell.com/marine-services/fuel-and-fuel-cargoes/ for further details.