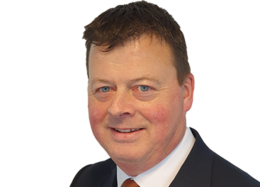 Senior Master Mariner
AFRIN, AFNI
work Liverpool

---
Career Summary
Dominic Bell is a Master Mariner with command experience. He joined Brookes Bell in January 2020 from Seatruck Ferries where he worked as a Marine Manager.
---
Background
Previously, Dominic sailed as Master with the Isle of Man Steam Packet Company Ltd. During his 19 years at sea, he sailed on various ship types, including freight ferries, Ro-Pax and high-speed passenger ferries and various naval auxiliaries. Dominic has considerable ship management experience and has served as Designated Person Ashore, Company Security Officer and Crisis Manager. He has extensive pilotage and ship-handling experience on various ship types, having served as a marine pilot and held pilotage exemption certificates as Master.
Dominic has carried out a variety of survey and opinion-based work since joining Brookes Bell; these are listed at the end of this CV. He has prepared replays of navigational incidents using the Company's Marine Accident Data Analysis Suite (MADAS), which have been used during arbitration proceedings in the UK.
Professional Qualifications
Master – Unlimited – II/2
Lead Auditor ISM
Academic Qualifications
Higher National Diploma (Nautical Science)
Professional Associations
Nautical Institute (Associate Fellow)
Royal Institute of Navigation (Associate Fellow)
Freeman of the Honourable Company of Master Mariners (HCMM)
Previous Employment History
Seatruck Ferries Ltd. – Marine Manager
Served as Marine Manager for 12 years, DPA, CSO and Crisis Manager for a fleet of 12 Class 7 Ro-Ros. He has extensive knowledge of the International Safety Management (ISM) Code and assisted in the development of the company's Safety Management System, risk assessment system, re-wrote the crisis management procedures and instigated a bespoke Bridge Resource Management course in conjunction with Lairdside Maritime Centre. During his time at Seatruck, Dominic led Company accident investigations into several major casualties (including the grounding of RIVERDANCE), liaising with the MAIB and other Flag and Port State authorities. A qualified Lead Auditor, he undertook the majority of safety and security audits. He also developed a detailed vessel inspection regime and carried out many such inspections. He played a leading role in the implementation of Maritime Labour Convention (MLC) compliance on all ships.
Associated British Ports – Marine Pilot (Humber)
Responsible for the safe pilotage of various ship types on the Humber estuary, River Ouse and River Trent.
Isle of Man Steam Packet Company Ltd. – Master
Served as Master on Ro-Pax and High-Speed Passenger Craft (HSC). Gained pilotage exemption certificates for ports visited. Assisted in the training of chief officers to become Masters. Undertook project work to re-write Craft Operating Procedures, On-board Training Procedures and revise generic risk assessments.
Isle of Man Steam Packet Company Ltd. – Chief Officer
Served as Chief Officer on Ro-Pax, High-Speed Passenger Craft (HSC) and Class 7 Ro-Ros. Responsible for the safe loading and stability of vessels and head of the deck department. Assisted with the on-board training of new recruits. Briefly seconded to ship management to re-write Emergency Muster Lists and emergency procedures for HSC. Assisted in the refit and dry-docking of vessels.
Royal Fleet Auxiliary Service – Second Officer
Served as Second Officer on various vessels, as senior bridge-watchkeeper, navigating officer and operations officer.
Surveying and Consultancy Experience
Damage to and/or loss involving:
Break bulk cargoes
Wind turbine cargoes
Structural damage to vessel
Advice and supervision:
Loading bulk scrap metal cargo
Investigation into and providing expert opinion on:
Lashing and securing of cargo
Vessel performance disputes
VDR and AIS analysis of contact incidents and groundings