Brazil Considers Stricter Moisture Content Requirements for Soya Bean Cargoes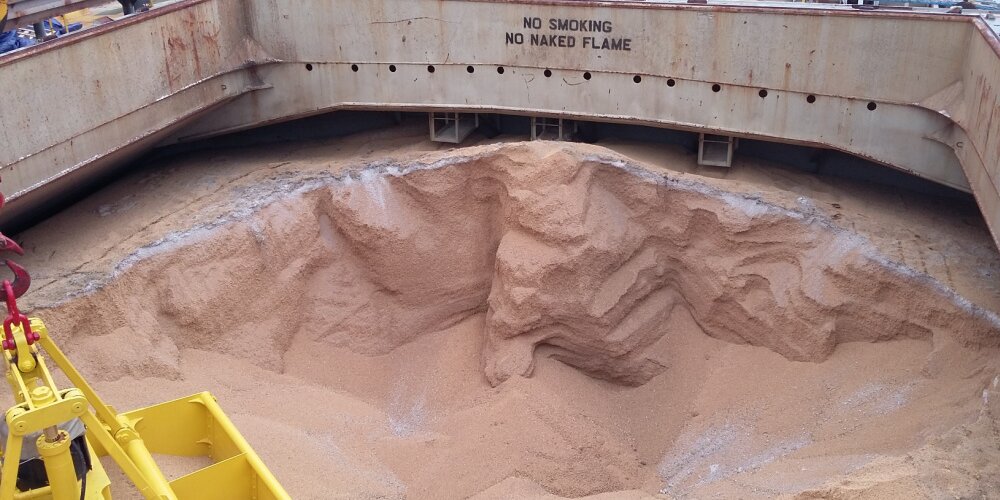 With Brazil being rapidly on track to achieve a substantial growth in soya bean production and exports over the 2022/23 and 2023/24 seasons, the country's Ministry of Agriculture has submitted a proposal to amend the soya bean technical regulation.
At the heart of the proposal - the point of most interest to the shipping industry - is the proposal to reduce the current moisture content limit of soya bean cargoes from the current 14% to a maximum of 13% in order to reduce the high volume of cargo claims experienced in the trade.
Soya bean grading standards
To date, the Ministry of Agriculture, Livestock and Supply (MAPA), has been responsible for regulating the commercialisation of agricultural products such as soya beans. Particularly, it's the Ministry's Normative Instruction 11 (IN 11/2007) - known generally as the 'Soya Bean Technical Regulation' - that sets out the foundations for Brazil's soya bean grading standards.
The regulation sets out the characteristics in terms of identity and quality that soya beans must meet, in addition to regulating cargo inspection, sampling and testing regimes.
However, there is an important caveat to consider in regard to IN 11/2007 - that the guidelines don't directly apply to soya bean producers or exporters. That being said, the norms established by 11/2007 routinely serve as the basis for negotiations between soya bean sellers and buyers. In fact, the grading standards of 11/2007 are typically expressly included in standard industry contracts.
What standards apply to Brazilian soya bean exporters?
If exporters are not directly covered by the stipulations of 11/2007, then what standards are they held to?
The answer is that the majority of soya bean cargoes exported from Brazil do so under sales contracts drawn up by the Brazilian Association of Grain Exporters (ANEC).
Under ANEC, cargoes can be exported either as 'parcels' (metric tons of 1,000 kg each), or as full cargoes.
In the case of 'parcels', soya beans are exported under ANEC 41 sales contracts. Full cargoes of soya beans are exported under ANEC 42 contracts.
Of particular importance to exporters is the fact that these contracts dictate that 'the quality, condition and quantity (of soya bean cargoes) are final at the time and place of loading with lab analysis and grading performed by a superintendent or analyst member of the Federation of Oils, Seeds and Fats Association Ltd'.
And, what are these 'quality, condition and quantity' stipulations? Under both ANEC 41 and ANEC 42, they are:
Oil content - basis 18.5% non-reciprocal allowance of 1% for each 1%, fractions in proportion.
Moisture content - maximum 14%.
Foreign matter - basis 1%, max. 2% non-reciprocal allowance of 2% for each 1% deficiency, fractions in proportion.
Damaged beans - basis 8%, max. 8.5% non-reciprocal allowance 2:1, fractions in proportion of which max. 4% heat damaged and burned (max being 1% burned) and 6% mouldy.
Broken beans - max 30%.
Greenish beans - max 8%.
As it stands, these requirements - as outlined in ANEC 41 and ANEC 42 - are similar to those of IN 11/2007. Thus, although soybean exporters are not directly covered by the stipulations of IN 11/2007, they are effectively working to the same standard of regulations.
What is the proposed change?
In its current form, IN 11/2007 does not align with other national standards, such as those in China. However, in response to pressure from various industries, MAPA published Ordinance SDA 532 in February 2022, which seeks to amend the current grading standards for soya beans.
Arguably the most notable of the proposed changes is to lower the maximum permitted grain moisture content from 14% to 13%. This would align it with the maximum moisture content specified in the Chinese national soya bean standards (GB 1352-2009).
Whilst other changes are being proposed as part of the ordinance - such as the stratification of the commodity into types, new limits for defects, protein and oil etc - it is the change to the allowable moisture content that is likely to have the biggest impact on grain producers and exporters.
Why? Because, sufficient drying of the soya beans will become an even more important part of the export process. In fact, the new moisture content requirement may result in companies having to invest in new technologies to adhere to export specifications.
Why is a new soya bean moisture content level being considered?
With Brazil's exports of soya beans constituting a major sector of its gross national product, and a voracious appetite for said commodity - Brazil is getting serious about product conservation. This is particularly important as its major importer, China, seeks to source more of its essential commodities domestically.
As cargo scientists - such as our team here at Brookes Bell - point out, soya beans traded under the current Brazilian export specifications are likely to deteriorate with time, a risk that applies particularly to long voyages of 40 days or more.
This is evidenced by a spate of recent and historical claims from buyers in China, which our cargo scientists advise on each year during the main soya trading season. Consider that the journey from the Port of Santos (which is one of the largest departure points for soya bean cargoes in the Southern Hemisphere) to China can take upwards of 40 days.
Add in further potential delays, such as queues for berthing, and the likelihood of a spoiled or substantial loss of cargo increases significantly. In addition, the cargo often takes a long and tortuous journey from the growing regions to the port of export before it has even been loaded on board a vessel.
It's believed that it's primarily for this reason - to avoid cargo loss and concomitant disputes - that the Ministry of Agriculture (MAPA) is pushing for a reduction in the allowable moisture content of soya bean cargoes.
However, there's an important caveat to this. Should MAPA proceed with the change in allowable moisture content, it remains to be seen whether commercial contracts - such as those governed by ANEC - will match the new standards; particularly given that investment in new harvesting, drying and storage equipment will likely be required and export prices per metric tonne may have to increase to offset the reduced moisture content weight within cargoes.
The importance of soya bean cargo temperature
In addition to the moisture content of soya beans, another important factor is the temperature at which the cargo is stored and transported.
With an increase in moisture content and cargo temperature, there is a corresponding increase in the risk of self-heating and microbiological deterioration.
This aligns with advice issued to farmers and trades in the US, such as the below table issued by North Dakota State University (NDSU):

Moisture Content

4.4ºC

15.6ºC

21.2ºC

26.7ºC

Approx. Safe Storage Time (Days)

11%

>300

>300

200

140

12%

>300

240

125

70

13%

230

120

70

40

14%

130

75

45

20

15%

90

50

30

15

16%

70

35

20

10

17%

50

25

14

7
Note - these 'safe' storage times are estimated from laboratory conditions and assume constant temperatures and moistures. In reality, the effects of microbiological heat generation coupled with variations within each cargo as well as moisture translocation factors mean real-life outcomes are more unpredictable and damage may manifest itself earlier or later than indicated. However, the figures in the table provide a useful illustration of the influence of temperature in addition to moisture.
Thus, the moisture specification alone is not sufficient to estimate the risk of cargo spoilage - temperature is also important, but not covered by the contracts and outside the control of shippers or shipowners.
Soya bean cargoes loaded in Brazil are usually at 25ºC or above at loading. On the NDSU table, at the current Brazilian export specifications of 14% moisture, this would correspond to a safe storage time of only about 20 days. Reducing the specifications to 13% maximum moisture would double this to about 40 days.
This would be expected to result in a considerable reduction of soya bean claims.
The proposed change in Brazilian standards is therefore a welcome step in the right direction. However, as voyage times from Brazil to China often exceed 40 days, soya bean claims are likely to stay around.
How do soya bean cargoes spoil?
Should the balance of moisture content and temperature of a soya bean cargo be too high, then the cargo will be prone to spoiling.
But how?
The most common ways in which we see soya bean cargoes spoil include the development of mould, caking and discolouration, which often occur in tandem.
Mould develops from naturally-occurring spores that are ubiquitously present on the soya bean seed, as they are on other grain and oilseed cargoes. If the relative humidity of the soya bean is 65% or more (this humidity being determined by the soya bean's MC and temperature), this can induce the spores to germinate, leading to the degradation of the soya bean.
Once degradation of the soya beans begins, heat is generated. This in turn can result in self-heating pockets of beans which eventually become caked. Should heating continue to progress, then the soya beans may discolour - ending up dark in the worst-case scenarios. This results in a decreased nutritional value of the end-product, and can include complex and costly mitigation processes.
And, as Brookes Bell has seen during its involvement in several cases, a spoiled soya bean cargo can result in expensive and complex claims for restitution on behalf of buyers.
What next?
The eyes of soya bean producers, exporters and buyers will now be on the Ministry of Agriculture, Livestock and Supply (MAPA) and their proposed changes to the soya bean technical regulation.
It is unclear to what extent the proposed changes will be implemented and how quickly said changes are likely to be made. As such, carriers are advised to closely monitor future developments.
How to avoid soya bean cargo disputes
If you want to avoid becoming embroiled in disputes over spoiled soya bean cargoes, then ensure you seek out expert advice from experienced cargo scientists.
Here at Brookes Bell, we have a team of scientists trained in physics, chemistry, biology, food science, forensic science, chemical engineering and more. As such, we are able to provide comprehensive, evidence-backed advice regarding your cargo requirements.
Our team is also often called upon by charterers, P&I clubs, shipping lines, cargo traders and others to provide on-site investigation services and post-hoc advice in the event that a party advances a claim of a soya bean cargo that has been lost or extensively spoiled.
For more maritime industry insights and information, read the Brookes Bell News and Knowledge Hub…
'Unprecedented Drought' Sees Panama Canal Take Water Saving Measures | Brookes Bell Welcomes New Cargo Scientist | Containerships Currently Moving at All-Time Low Speeds
Author

Martin Jonas

Date

21/09/2023