Brookes Bell opens new metallurgy, fuel testing and non-destructive testing laboratory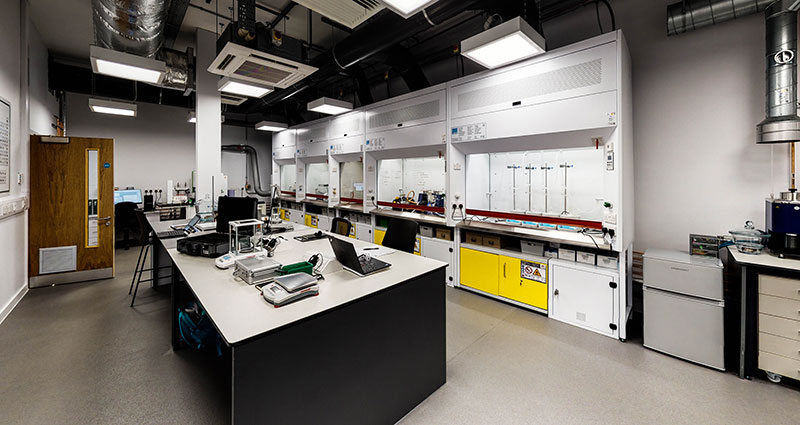 Brookes Bell – the global technical and scientific consultancy – has (27 January 2021) officially opened its new high-end laboratory.
The virtual opening which was shared with over 50 online attendees included a walk-through introduction with the technical leads of the Brookes Bell's enhanced and new departments – metallurgy, fuel testing, non-destructive testing and paint sample inspections.
The new 8,000sq ft facility has been developed in Bidston, Wirral, Nr Liverpool in the UK and includes advanced testing and inspection facilities, a modern laboratory, engineering workshop space, flexible training facilities and offices. The new laboratory will help to reinforce the multi-disciplinary technical and scientific services Brookes Bell currently offers, allowing the company to develop business opportunities beyond its existing marine and energy clients, responding to interest and enquiries from new customers.
Ken Kirby, Director of Metallurgy and NDT says: "With the development of this high-end facility, we can now provide laboratory services to local industry, as well as providing our existing clients with an alternative service that has been built cognisant of the requirements of the marine and energy industry for forensic investigations. With the support of a large, diverse team of consultant Engineers, Naval Architects, Master Mariners and Scientists from a whole range of different backgrounds, we believe we can offer a first-class laboratory service to clients, as well as creating a centre of excellence for training and development."
Matt Calveley, Laboratory Manager and Technical Lead for Metallurgical Services added: "With increasing demand coming from within and outside the maritime industry, this new testing facility will help us provide a greater range of services to support our clients in sectors such as traditional maritime, superyachts and energy. With our advanced investigative laboratory equipment, such as Scanning Electron Microscope, Portable LIBS (Laser Induced Breakdown Spectroscopy) analyser and Olympus DSX-1000 digital optical microscope (one of the leading, industrial light microscopes), we can offer clients a cutting-edge service in forensic and metallurgy failure investigations."
Arron Jackaman, Technical Lead for NDT Services at the laboratory also added: "The laboratory will be a centre of excellence for the exciting range of cutting-edge and unique NDT applications we have been developing over the past 18 months. The facility here will enable us to continue to work with collaborative industrial partners and clients alike to deliver state-of-the-art NDT services and world-first applications".
Jenny Davies, Fuel Services Lead said; "The new laboratory houses a state of the art, fuel-testing facility which will allow Brookes Bell to meet the increasing demand and complex nature of fuel-related investigations and claims. We will be able to test fuel samples in accordance with table 2 of ISO 8217, highlighting substandard samples and helping to identify the causes and origins of any fuel-related problems. Our advanced analytical equipment will enable us to provide more exploratory and detailed analysis options over and above table 2 of ISO 8217."
Ray Luukas, Chief Technical Officer at Brookes Bell, said: "Brookes Bell has been providing multi-disciplinary marine consultancy services to the marine and energy sectors since 1903, this significant investment will enable us to grow the business in new areas by applying our expertise to deliver more complex and technical services alongside our casualty investigation, forensic analysis, technical dispute resolution and expert witness work, assuring the company's market-leading position for many more decades."
The full video of the new Brookes Bell laboratory opening can be viewed here.
Brookes Bell grows international reach with the addition of 3D Marine

Brookes Bell – the global technical and scientific consultancy – has today (18 January 2021) announced the addition of US based marine consultancy firm 3D Marine USA Inc.
3D Marine is a full-service consulting group, specialising in all aspects of marine transportation, offering vessel and cargo surveys, casualty and marine engineering consultancy.
The addition of 3D Marine is part of Brookes Bells' long-term strategy to service clients across the globe, giving the company an additional presence in Houston and Miami alongside its current offices in Liverpool, London, Glasgow, Shanghai, Hong Kong and Singapore.
Brookes Bell is widely regarded as the 'go to' firm for casualty investigation, forensic analysis, technical dispute resolution and expert witness work for a broad range of marine and energy matters.
3D Marine was established in 1988. In common with Brookes Bell, the 13-stong workforce comprises experienced master mariners and senior officers, marine engineers and naval architects, with well-established expert witness services. Ray Luukas, CTO, Brookes Bell says: "Brookes Bell is a leading multi-disciplinary technical and scientific consultancy serving the marine and energy sectors, so this is a natural fit for us, complementing the services we offer and significantly increasing our geographical reach. Our business growth is steady and consistent despite the challenges of the last year and the global pandemic, this is an exciting development for all of us going into 2021".
"Our teams around the world already work together on different multi-discipline projects, pulling in specialist expertise as and when needed. Our new laboratory in the UK provides metallurgy, comprehensive fuel testing, advanced NDT and paint testing services that will be made easily accessible to our new US colleagues, offering customers a more rapid and bespoke service."
David Scruton, CEO, 3D Marine added: "We have grown steadily over the last twenty years and this partnership now takes us to the next level. By joining with Brookes Bell, we can offer our clients an enhanced range of services and a truly international response, while our team can benefit from new and exciting synergies as a result of being part of a larger organisation. I moved from Liverpool to Houston in 1992, and in many ways this merger with Brookes Bell actually feels like going home."
Brookes Bell announces internal promotions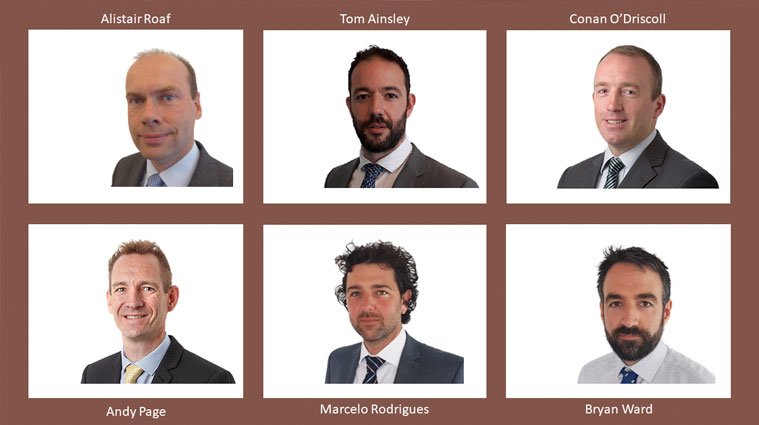 We are delighted to announce six internal promotions, recognising outstanding performance, ongoing academic achievement, and demonstrable commitment to professional development.
Alistair Roaf has been promoted to Principal Master Mariner. Tom Ainsley, Conan O'Driscoll and Andy Page have all been promoted to Senior Marine Engineer, and Marcelo Rodrigues and Bryan Ward have all been promoted to Managing Scientist.
We would like to congratulate them all on this significant achievement, and to thank them for their commitment, hard work and for clearly demonstrating Brookes Bell's desired corporate behaviours.
As an employer Brookes Bell is committed to continuing professional development and the opportunity for advancement and promotion is an important part of our staff retention strategy. Each member of staff has a regular review with their line manager to discuss their goals and long-term career plans to ensure they can make the most of training opportunities both in house and externally.
Above all, we want to ensure that our teams can deliver the highest quality professional expertise and tailored consultancy services in every case for our clients.
Once again, our sincere congratulations go to Alistair Roaf, Tom Ainsley, Conan O'Driscoll, Andy Page, Marcelo Rodrigues and Bryan Ward.
Global pandemic leads to cargo delays and quality issues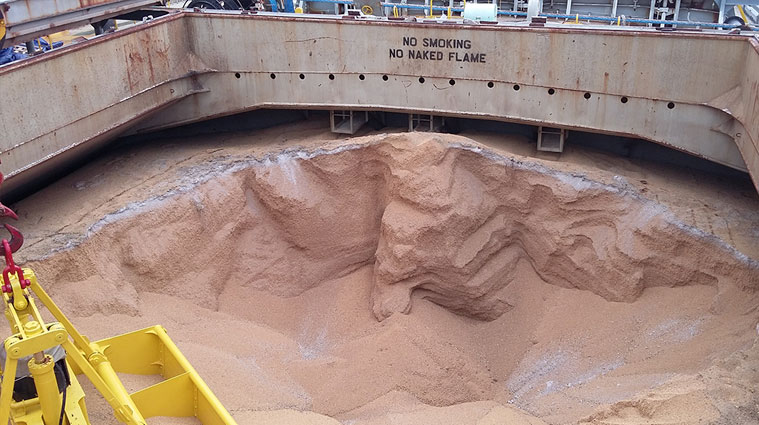 Dr Martin Jonas is Director of Science UK, leading a team of cargo scientists who specialise in the ocean carriage and storage of a wide range of commodities, everything from grain and oilseeds to sugar, fertilisers, liquid cargoes, coal, ores, minerals and chemicals, fruit and vegetables. The team – located all around the world - investigate the cause and extent of cargo deterioration, quality disputes, cargo fires and many other marine claims.
The department is seeing a significant increase in commodity and contractual quality disputes between buyers and sellers of cargoes at the moment, with many arising as a result of the global pandemic and vessels being detained in port or unable to berth as a result of national border restrictions, and other disruptions to supply chains.
We cover a huge range of commodity disputes – often far wider than many of our clients realise. It's something we have specialised in for many decades with our team regularly providing expert opinion or specialist litigation advice for GAFTA or FOSFA arbitrations as well as P&I cargo claims. All the team are qualified to PhD level and the core of the team, including the regional Directors of Science heading the teams in the UK and in the Far East, have been working together for more than 20 years, offering industry-leading specialist expertise with unrivalled continuity and experience.
There are many different cargoes and issues that we commonly advise on, but the transport by sea of foodstuffs can be particularly complex, as damage may arise from factors inherent to the cargo, or from the specific circumstances of the voyage or the vessel.
Grains and oilseeds are shipped in large quantities on bulk carriers and are sampled and tested for quality to verify that the cargo is of the required contractual or regulatory standards to meet the specifications in the sales contract. On delayed voyages, complaints may arise in respect of quality or a deterioration in condition. Investigating quality complaints requires close attention to representative sampling procedures and appropriate laboratory test methods. We assist with arranging sampling and testing and provide expert advice on the findings. In cases of cargo damage or deterioration, comprehensive survey evidence during discharge is essential. Where COVID restrictions prevent our attendance on the vessel, we can provide comprehensive remote guidance and expert evidence on causation, quantum and mitigation.
Seed cakes are the solid remnants of processed grains and oilseeds, commonly used as animal feed components. As they retain a significant oil content, they can be hazardous and liable to self-heating, in some cases to the point of combustion. Seed cakes are valuable cargoes but misdeclaration is not uncommon and there are plenty of new forms offered for shipping but without the appropriate declaration. Understanding which of these cargoes is hazardous and high risk is complex, needing a scientific approach and comprehensive knowledge of past and present regulations.
Edible oils of a plant or animal origin are normally shipped in liquid form on tankers. They can deteriorate for a number of reasons, such as voyage delays or contamination. Sometimes, edible oils need to be carried at a higher temperature which can lead to problems resulting from heat damage or they may get contaminated with water or other cargoes during loading or discharge. Our scientists work closely together with our in-house coatings and tanker experts to allocate the appropriate expertise to each dispute.
The team can offer advice on sampling from ships' tanks and shore tanks, on sample storage and analysis, we may review cargo temperature and pumping logs, analyse the causes and effect of deterioration or investigate any contamination, providing detailed advice on mitigation. Our coatings experts can investigate the condition of tank coatings that may be associated with contamination claims.
The team may be tasked with providing the correct and accurate declaration of the products, with the regulatory assessment of new processed commodities, the loading and carriage conditions. Similarly, we have extensive experience relating to firefighting, and handling claims involving nutrition effects, quality disparity and taint.
Another aspect of our work is advising on infestation and fumigation. Agricultural materials carried by sea are always at risk of becoming infected by storage pests, and with delays in transit this can become more of an issue. We have extensive experience in identifying insects and rodent infestations. Most cargoes of grain and animal foodstuffs are fumigated onboard once loaded and the fumigation exposure can last for most or all the voyage. Fumigants can be extremely dangerous if used inappropriately, we have investigated many claims and incidents relating to fumigation and have experience of fires, explosions and even deaths caused by inadvertent fumigant inhalation.
Our team can provide the very latest technical advice on insects present in cargoes and their safe, efficient fumigation, advising on the nature and extent of an infestation, its origin, and the IMO safety guidelines for fumigation. We have extensive knowledge and experience and are located all around the world, able to advise on any cargo claim dispute as and when needed.
https://www.linkedin.com/in/dr-martin-jonas/
http://www.brookesbell.com/service/scientific-cargo-expertise
Meet the team - Ken Kirby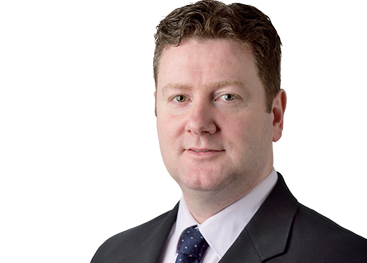 Ken Kirby is the Director of metallurgy and non-destructive testing (NDT), based in Liverpool. He joined Brookes Bell in 2006 and became partner in 2011. He has led the team involved in the development, design and build and successful opening of Brookes Bell's new laboratory. Here he tells us a bit more about the last few years planning the new development, his background and role within the organisation.
The core of my day to day routine is failure investigations of marine casualties or land-based incidents for clients. As director, I am responsible for coordinating the strategic planning and development of the department and managing our ongoing work stream. As part of this I'm constantly working with our technical experts to develop our services, and this is where the Brookes Bell Laboratory and Technology Centre fits in – by enabling us to develop new technologies and novel applications.
I am also responsible for the strategic planning, development and growth of the Brookes Bell Laboratory and Technology Centre and ensuring the delivery of the new state of the art facility which we officially opened on Thursday (27 January 2021). I am not involved in the day-to-day running, but instead the overall strategic development of the laboratory and its service lines to ensure that we meet our clients' requirements and expectations.
The new laboratory is a success story, it really is a wonderful facility, but it's a vision that has been many years in the making. We started thinking about the concept of the laboratory within the metallurgy department about four years ago in 2017/18, and it was from there that we developed the ideas, which culminated in an ambitious business plan.
Before the development of our new facility, we had a small inspection centre that was operated out of convenience as a site that housed a lot of our existing samples while allowing basic inspection services. The slow, yet incremental growth of that facility eventually resulted in the service becoming difficult to manage on a day-to-day basis, and this led us to review our entire business model and we decided that the best way forward was to significantly increase the range of services we offered and build an entirely new facility from scratch.
A big change in the plans came when we employed a specialist NDT engineer. After working together on a number of projects related to our core work at Brookes Bell, we quickly realised the development opportunities that could be available if we had access to a well-equipped facility. Brookes Bell already used some advanced NDT techniques and inspection methods, but we needed a way to develop our more innovative ideas further.
We concluded that we needed a plan to develop our ideas and evolve as a department if we were to deliver the services we wanted, and provide the expertise needed by the market. Concurrently, Brookes Bell's fuel consultancy services had also developed and grown in direct response to customers' needs and the demands for testing in that industry. Metallurgy, NDT and the fuel testing complement each other enormously in many ways, and there is considerable overlap in the testing requirements needed to facilitate the investigations that fall within these services. It was this growth and need to meet the new challenges of 21st century consultancy services that came together in the business plan that has now delivered the Brookes Bell Laboratory and Technology Centre.
It's been hard work managing the new laboratory project during the global pandemic, not least managing the COVID-19 guidelines and juggling limited and varied resource availability as a result of that pandemic. At times it has felt like the sword of Damocles hanging over all of us, but early in December 2020 we were finally handed the keys to the Laboratory and we could open the doors and see the realisation of that vision and several years of hard work.
Since December, we've been working hard on implementing and validating all our operational procedures and tests, it's an onerous task but it's the vital background work that must happen, to support the services we will offer moving forward. It involves fine tuning of our operations and processes that will enable the laboratory to achieve ISO/IEC 17025 laboratory accreditation, which we are working very hard towards. I'm so proud of what the team has achieved, to see the vison, for the concept to be realised - it's a real testament to all the hard work and dedication of everyone involved.
So, what next? Now the real work begins, we're open and ready for business! Initially we will work to grow and expand the range of services we offer, but we are always looking to diversify too, diversification is in our DNA! Why just stop at NDT, metallurgy and fuel? We've already started growing our paint testing services, but will it stop there – who knows, but there's so much more that we can do, now that we have this amazing facility.
For myself, I can only remember wanting to be a metallurgist; my first degree is in metallurgy and I worked in industry for over ten years in production and as a research and development metallurgist, working in a specialist alloy foundry in the production magnetic materials and other exotic alloys. It was during my time in industry that I completed my PhD in metallurgy and materials science, working with magnetic alloys.
It was only once I'd finished my PhD that I began to think about a new challenge. I'd never considered consultancy and forensic investigations, but I saw this opportunity come up and thought why not.
I joined Brookes Bell in 2006 and started out as a fee earner and worked my way up, eventually becoming an equity partner in 2011. Now I am Director of metallurgy and NDT services and I can honestly say, I've never looked back. In an engineering career, the chance to build a new laboratory from scratch is a bit of a dream, it's been two-three years of challenges, but would I do it again? Yes, I would!
Outside of work, what do I like doing? Well, in common with most of the population – life outside of work is somewhat limited these days because of the national COVID-19 lockdown. I was born and bred in Liverpool and have never felt the desire to live away from Merseyside. I live on the Wirral, which sits between Liverpool and North Wales, known for its walks and outdoor activities. I am a keen golfer in my spare time and an enthusiastic fan of Everton football club and season ticket holder – I rarely missed a game before the Pandemic. I look forward to a return to a sense of normality, swinging the golf clubs once more and cheering on my favourite football team.
---