Meet the team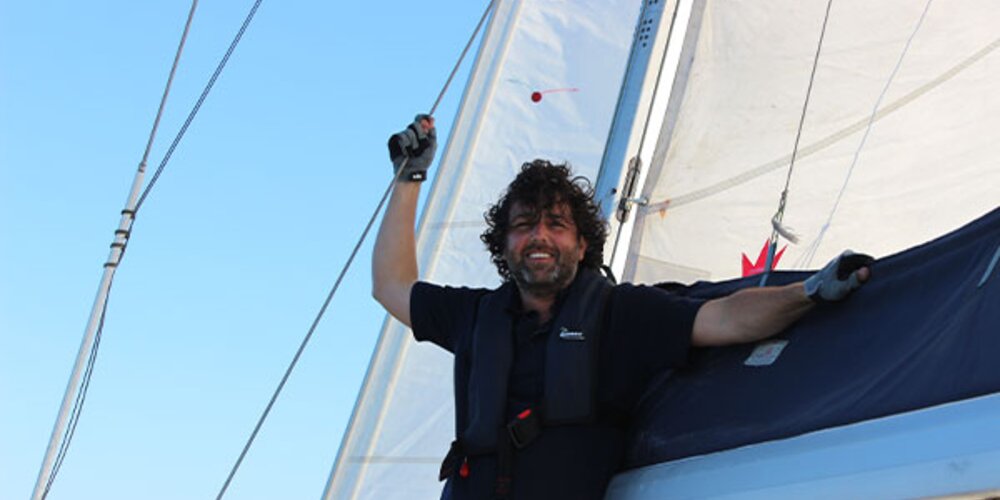 Dr Marcelo Rodrigues is a consultant scientist, he joined Brookes Bell in 2018. He grew up in Brazil, studied there and completed his PhD in Spain. A career in academia followed with posts in Innsbruck, Austria and Newcastle, UK. Here he tells us a bit more about his work and why it fascinates him.
I grew up in Santos, Brazil which is a big maritime port and I completed my first degree in Biological Sciences there, I always knew from childhood that whatever I did, it would be biological – animals of all types fascinate me but as undergraduate I started focusing on biofouling and how animals establish underwater bonding.
My PhD was on biological sciences too but focused on the life history of a group of squids that use a "glue" to attach sand grains to their bodies to avoid predators. As an academic researcher I examined how underwater organisms – particularly animals that evolved early in the tree of life such as anemones, attach to underwater structures. I was looking at the proteins which help these creatures create that underwater bond, trying to identify the constituent parts so we could translate it into technology, for applications that would either improve bonding in wet environments such as the human body, or antagonistic technologies for more targeted antifouling applications.
My research was multidisciplinary and involved a lot of studying genomics, proteomics, DNA sequencing, bioinformatics and animal husbandry. It was very interesting and attracted competitive grants from the European Union and beyond because my research was tackling such a challenging subject, for example biofouling, an issue that has affected vessels and ports since time immemorial, all around the world. It's certainly top of mind for ship operators, the more biofouling on the underneath of a vessel, the more drag, which means more fuel needs to be consumed to maintain a given speed, and consuming more fuel means greater costs for the ship operator and more emissions for the environment.
Today, working with Brookes Bell I'm slightly more focused on the cargo science work, there's a lot more of it and the cargo volumes involved can be significant, and as a result the claims are larger.
The scientific principles remain the same, it's just a matter of applying them to different subjects. That is the beauty of working in Brookes Bell, as it allows me to apply scientific principles to a myriad of subjects. In addition to our team of talented scientists, I am working with a truly multidisciplinary team of very experienced maritime professionals so while I might have exceptionally high-level scientific expertise, I really do appreciate their technical knowledge, I am learning a lot from their experience. My language skills are also very helpful for the whole team as I can work without the need for a translator when it involves the Portuguese and Spanish languages.
One way my life now differs from my academic career, is that at Brookes Bell, there is no 'normal' day, it all depends on what cargo is involved and what the conditions of transit were like. Now I'm always on call and the work is much more urgent. Every client wants a quick response because their call may mean a ship is stuck in port until the investigation gets underway. My cases involve bulk carriers mainly carrying anything from soya, grains to nuts and fertilizers and recent cases have been anywhere, from Denmark to Sudan, Egypt, Spain or Brazil.
By contrast, many of the biofouling jobs are more desk-based, I might receive samples of the organisms to ascertain how long ago an organism might have attached to the hull, but the analysis will be much more investigative, looking at the port calls, and evidence of actions taken or not and data collected along the way.
Often, it's the case that a Master on arrival at a destination reports that much more fuel was required as a result of drag, and the first thing to investigate is the biofouling - so when was the hull cleaned, do the cleaning records match the biofouling growth etc?
I'm also increasingly working with the Brookes Bell paint & coatings team, and the NDT team to support their analysis as and when a case would benefit from my biological expertise. And I am very excited by the capabilities of the new Brookes Bell independent laboratory, the equipment certainly matches and exceeds the equipment I've worked during my academic research, which opens up the possibility of applying it to many more cases for a massively enhanced level of analysis. I've definitely got some ideas for new services and approaches for bio samples and cargo investigations.
Last but not least, what do I enjoy doing when not at work – sailing my yacht, which takes a considerable amount of time and money but is hugely enjoyable, despite the slightly (normally!) cooler climes of northwest England.