Meet the Team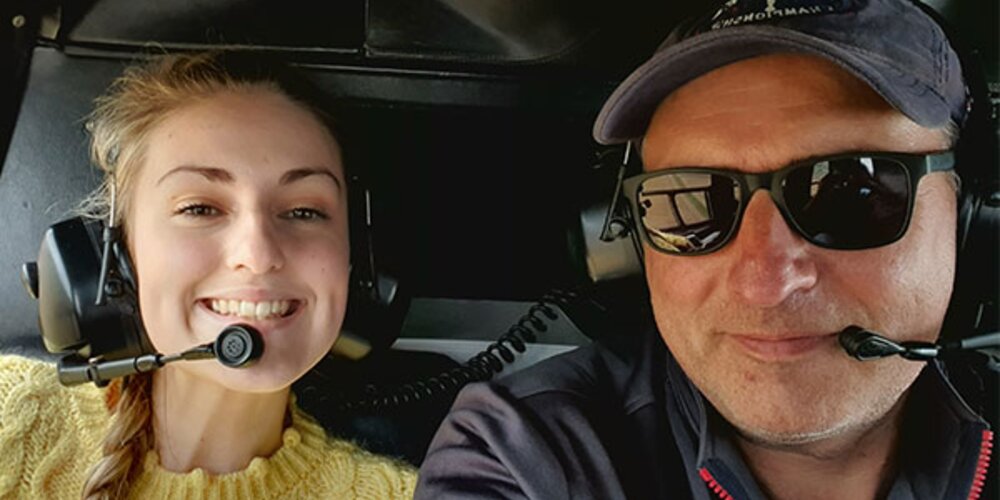 This month we meet Adrian Scales, Head of Nautical who joined Brookes Bell in 2007 after 18 years at sea. Here we ask him a bit more about his career and life outside work.
I was born in Farnborough, Hampshire – a long way from the sea ! But my uncle had a yacht and so my first sailing experience was reportedly being slung from a baby bouncer off the boom while he and my Dad sailed together off the south coast. As a teenager I got the bug and started to sail on a local lake. I then joined the Sea Scouts to continue sailing and kayaking when school work permitted...
I started getting more serious with my sailing through the London Sailing Project (a sail training organisation) on their 72ft yacht RONA and latterly the 57ft yacht HELEN MARY R. I enjoyed sailing out of Southampton and across to France in my teens and this experience started me on my quest to pursue a career at sea.
There is seafaring heritage in my family. Both my great, great grandfather and my great grandfather were ship's captains (based on the east coast). I have their certificates and medals dating back to 1895, on my wall in the office. There was break in the history as my Dad and grandfather were both in the Air force (albeit my grandfather was a seaplane pilot so I think this sort of counts !). Once the sea gets into your bones, it is very difficult to get it out again !
I started my career with The Geest Line taking general cargo down to the Caribbean Windward Islands, from the UK, and bringing bananas (and the occasional snake and spider) back. It was probably the best job at sea at the time. It was a 28 day round trip on a clean white refrigerated container vessel that also carried 12 passengers so the food was always exceptional. For my first four month trip to sea as a cadet I left home as a boy weighing around 9 stone, and came home an adult some 10cm taller weighing around 13 stone…the fresh sea air and work ethic made one hell of a difference.
I was exceptionally lucky to have been on a ship where all the deck officers had Master's tickets and therefore I was able to learn my trade very quickly. Following the completion of my cadetship, and a few years under my belt as a junior navigating officer, which included standing by two new ships that were brought into the Geest fleet, I was made redundant just as I came ashore to study for my chief officers ticket. From this point I alternated between Ferries and Geest Line before finding my vocation as a Master with P&O on the Irish Sea northern corridor. During my last few years with P&O I was able to gain experience as Master on different routes and different vessel types (Ro-Pax, Class 7 and Fast Craft – as well as a short dalliance on a small exclusive cruise vessel).
When I joined Brookes Bell it didn't feel like I was leaving seafaring to come ashore, I felt like I was just approaching it from a different perspective. I decided to change my career path because having attained command at 29 years of age, and having enjoyed training junior officers for a few years, I wanted to expand my horizons and do something different. After various options (pilotage, legal etc) Brookes Bell and its forensic approach to investigations appealed to me and the rest as they say, is history.
Today, as Director of Nautical, I have the oversight for around 22 master mariners and consultants that make up our nautical team, located across Asia, UK and the USA. I am responsible for monitoring the team, providing oversight and guidance, and ensuring that expert Master Mariners are available to assist clients when and where our assistance may be required. I try to maintain an open door policy such that I am available at any time should anyone need guidance or support for both my own team and other disciplines that may require a nautical input.
My main goal over the last few years has been to put appropriate succession planning in place for the Nautical Team, so that as the older sages retire, we still have strength and depth within the team. I am fully conscious that we must maintain the relevant recent experience at sea as well as sufficient time ashore to be able to service our clients with relevant expert opinion at court and Arbitration. Today, we have a very strong team of current Master Mariners (including two Chartered Master Mariners) with long careers remaining ahead of them. I do continue to look to recruit when the correct candidates are available and the business case permits.
I currently like to specialise on salvage and wreck removal cases as these tend to be the ones that I get the most job satisfaction from. I must admit to still having a preference for getting my hands dirty while out in the field working with salvage teams rather than spending hours and hours sat forensically examining documents at my desk. That said, I do enjoy working on challenging matters where the case may not be that straight forward and forensically investigating trying to understand why things have gone wrong. In this respect, I also specialize in analyzing the stowage and securing matters for project, general, ro-ro and timber based cargoes.
At the end of the day, given the experience gained dealing with a variety of cases over the last 15 years with Brookes Bell, I have a working knowledge of most of the cases that we deal with, and if I don't have direct knowledge, I certainly know someone on the team that will know and be able to assist.
At the moment, many of the cases we're investigating relate to the industry trend for larger vessels but with same number of crew. I focus on the assessment of crew actions following emergency incidents. During the course of my career at sea I was fortunate (or unfortunate) enough to have experience responding to fires on a general cargo vessel and a ro-ro vehicle deck while in service. I was also the off-duty Master on a Ro-Pax, where control had been lost and the vessel grounded off Scotland in a storm during the early hours (I maintain I was not on duty at the time the call came in to let me know it was all going wrong !). As a result, I have direct experience to draw on when considering how the crew are reacting to an incident and what processes have to be followed during emergency incidents. With only limited numbers of crew, normal procedures that a non-seafarer may consider appropriate simply do not and cannot apply. Vessels sizes are also more challenging, for vessels that are 400m long and 65m breadth, if something happens there's a fair amount of distance to cover to get to the incident location (with equipment), and those that have not been on ships often don't understand or appreciate the challenges that these problems generate.
I particularly enjoy the process of learning about a casualty or case and working through the sequence and documents and being able to form an opinion on a way forward or cause as the jigsaw pieces fall into place. The cases I find most interesting are the projects in challenging locations that don't have any certainty of outcome at the outset. I also enjoy our team approach to challenges, having such depth and strength in our team, we work very collaboratively - there is always someone willing to throw a curve ball into the mix of the discussions that challenges the opinion sufficiently to ensure it would stand up under cross examination.
With salvage and wreck removal cases I often have to jump in the car or on a plane to remote locations without any real knowledge of when I might come home again. It's not unusual to get a call at 1730 hours on a Friday, for a new casualty overseas, that you have to travel to either that same evening or first thing the following day. One of the last SCR appointments that I attended at short notice was STELLAR BANNER. I took the instruction and was on a flight to Brazil within five hours. I returned home three weeks later on the last flight from Sao Paulo before the Covid lockdown kicked in. I particularly enjoy salvage because I get to work with innovative companies that come up with bespoke solutions in challenging locations to save life, property and the environment. These cases result in a lot of job satisfaction when the case is resolved in a safe and efficient manner.
The most interesting place I visited while at sea was the Caribbean and South America picking up Bananas and containers. Since joining Brookes Bell, my favourite destination in recent years was probably Grand Bahama where I expected to be away for a week to ten days, but came home after around three months. There are definitely worse places to be attending a casualty !
I was appointed to the Lloyd's Salvage Arbitration Branch SCR Panel as Special Casualty Representative (SCR) back in 2015. There are only about 50 SCR's globally, candidates are assessed by a panel of industry experts based on their current and previous salvage and wreck removal experience. The acknowledgement of experience by being on the panel each year opens up a valuable work stream in Wreck Removal and Salvage Assessments. An SCR remains on the panel for a period of three years (renewing each year) after which we have to reapply stating we have continued to gain experience in the field during the previous three years and are fit and capable of attending any casualties we may be asked to attend. I recently completed the reapplication process and have been appointed to the panel for another three years.
Similarly, I was awarded Chartered Master Mariner (CMMar) in 2017 and there are currently only around 60 Master Mariners globally that can claim to be Chartered. This professional standard is administered by the Nautical Institute and the Honourable Company of Master Mariners. As one of the first through the process (Cert No.18) it gives me great pride to think that I am part of an exclusive alumni that are considered to be at the top of their profession.
The accolade is given to those that have eminence in their field that is above and beyond being just a Master Mariner – something which I do sometimes worry actually applies to me. As a Chartered Master Mariner, I find that I am able to connect with other senior personnel in industry a little easier (particularly those who are also Chartered) allowing me to expand both my personal and professional client base and use it to assist those coming through the industry that need my help and guidance the most.
Outside of work, I obviously enjoy spending time with my family, but I also have a passion (some would say obsession) for cycling. I currently own around eleven bicycles of different types (both modern and historic) and am able to choose between road, track, cyclocross and mountain as the mood takes me. I enjoy riding around the Wirral, Cheshire and North Wales, and further afield to the Lake District and Yorkshire Moors when I can escape from Liverpool and work and be with the family for a weekend.
Over the last few years I have managed to undertake some epic multi-day rides (Ride Across Britain in 2015 and London to Paris in 2019) which helped raise some valued funds for various charities. In 2022 I am hoping to be able to train and find the time to ride between the London and Liverpool Offices (230miles) in a single day. The hope is to again try and raise some funds for worthy charities (the RNLI, Mission to Seafarers and Mercy Ships etc).