Metallurgy developments in the new laboratory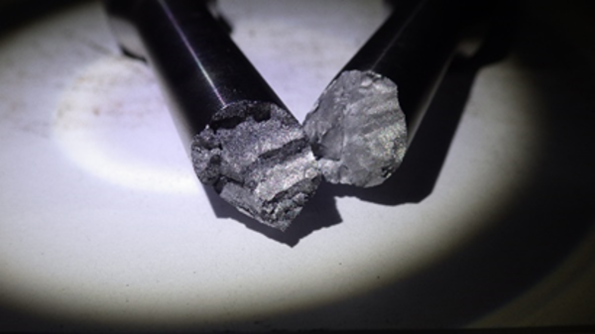 Matthew Calveley, Senior Metallurgist at Brookes Bell talks about the new metallurgy resources which will widen the team's capabilities and the progress of the new laboratory as its opening date gets closer.
Work on our new laboratory continues apace with the opening scheduled for the new year. As the date gets closer, we've been taking delivery of some of the impressive equipment which will take our metallurgical investigations to another level.
In the course of our work, we provide technical consultancy service to shipyards, manufacturers and vessel owners. Our investigations might cover anything from a metal failure, to an enquiry about construction quality or an investigation into manufacturing processes. Our work might involve very large components right down to very small delicate samples such as paint flakes, but the first step is a thorough visual examination of the sample.
Metallurgy is a branch of science and engineering, describing the study of metals and materials. By understanding the fundamental behaviour of metals, our metallurgists can determine how a component or structure should react in a specific environment or under certain mechanical loads.
In order to assist with our investigations, we prepare samples to examine the materials in more detail. Some of these samples are soft, others can be very hard. To help with preparation of a range of materials, we have invested in a new metallographic precision cut off saw which has three automatic axes and automatic feed control which can adjust to the thickness and hardness of the material, producing very, very thin cuts. We then use our new grinding and polishing stations to prepare the sample with a final mirror polish before examining it using microscopy. Although these items may not be as immediately intriguing as some of our other new analytical equipment, our saw and grinding/polishing equipment enable the team to significantly streamline and automate the existing preparation process for samples.
Using our high definition digital microscopes, we can assess a sample as part of our inspections including fractographic analysis, weld analysis, microstructural inspection, high precision measurements and joint witnessed analysis.
Our new DSX1000 High-Resolution microscope and Omni full HD digital microscope offer flexibility over a wide range of inspection types, moving swiftly between different observation modes including darkfield, brightfield and polarised viewing options and providing a magnification range from low magnification right up to x2800. Our optical microscopes include long working distance lenses for uneven samples and material lenses for close up microstructural work. This equipment can generate 3D images of specific points of interest and can stack multiple images taken at different focal lengths to create fully in focus images.
If the team needs to examine something at high magnification while retaining a high amount of resolution, they can use scanning electron microscopy (SEM). This is a much higher level of magnification using a focused beam of electrons generating high resolution and high magnification while retaining depth of field.
SEM has a wide range of uses, including for forensic engineering, contamination and corrosion analysis, coating inspection, fuel investigations, research applications and for product development. It is particularly useful at identifying mechanisms of failure and generating elemental energy-dispersive x-rays (EDX) which can be used as a quick sample analysis tool. Brookes Bell's microscope also contains an advanced live EDX function which generates elemental data in real time while imaging the areas of interest. Our new JSM-IT200 InTouchScope Scanning Electron Microscope will allow for inspection at magnifications in the magnitude of x10,000 all the way up to x100,000.
To confirm whether a particular metal component meets a specific standard or specification, the base properties of the metal need to be examined. This could involve chemical analysis or mechanical testing, where a sample is tested in the laboratory using destructive methods. However, this destructive analysis is not always feasible, and so Brookes Bell can now offer a range of portable chemical analysis equipment including LIBS (laser induced breakdown spectrometry) and PMI-OES (positive material identification - optical emission spectroscopy) using new equipment – the Hitachi handheld LIBS analyser or Hitachi PMI-MASTER Smart OES analyser.
LIBS is a portable method for chemical analysis of metal alloys, particularly magnesium and aluminium alloys and its used for hard to access areas on large scale engineering structures. The PMI unit is a portable version of OES and can provide a full chemistry of alloy materials down to low detection limits. It includes UVTOUCH technology and gives a reliable analysis of ferrous materials such as steels and stainless steel, as well as aluminium, nickel and copper. Both sets of equipment offers all the benefits of laboratory quality chemical analysis, but on site and in situ - benefiting any investigations enormously.
Brookes Bell has invested significantly in its new laboratory, when it opens in the New Year it will be fully equipped with the latest technology, dramatically boosting the teams flexibility and the range of specialist service on offer.
Marine Consulting Services helps restore the Clyde's largest passenger steam turbine ship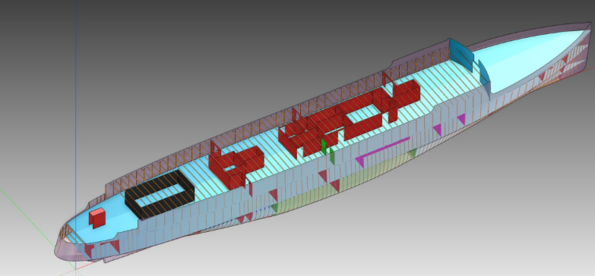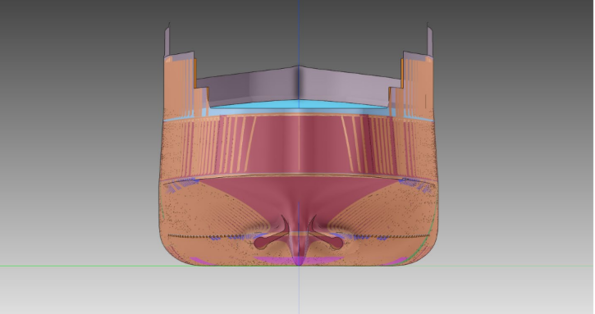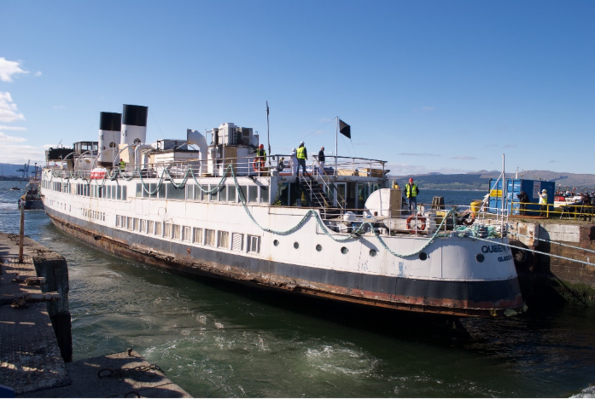 Brookes Bell offers a range of marine consultancy services, delivered by a multi-disciplinary team tailored to suit the requirements of the job in hand. Led by Dr Luis Guarin, the division arose from the corporate acquisition of Safety at Sea Ltd, in 2011.
Safety at Sea was established in 1997 by the University of Strathclyde with a team of specialists focused on improving ship stability following the tragic losses of the RORO ferry MV Herald of Free Enterprise (1987) and the ropax ferry MS Estonia (1994).
Following these two passenger vessel disasters, Northern European countries undertook a retrospective upgrade of all ferries to improve ship stability and prevent accidents like this from happening in the future. The Safety at Sea team were instrumental in helping ship operators to navigate the new ship safety requirements.
Today, the Brookes Bell marine consultancy services team has seven members and pulls in other experts from across the company as needed. They provide specialist safety advice to designers and owners, and a wide range of clients, including suppliers of equipment for both newbuilds and conversions. They also provide safety engineering services, quantitative risk assessment and formal safety risk assessment for the offshore industry.
Because the team has such unrivalled expertise in this area, it has contributed to the industry's development of ship safety standards. Note-worthy is the team's involvement in a recent appraisal of damaged ship stability standards on behalf of EMSA (European Maritime Safety Agency) and its significant contribution to the IMO (International Maritime Organization) work on the safety of bulk carriers in the early 2000s.
The division has built a strong reputation for advising on passenger ship new builds, alternative designs and cruise ship safety assessments, using detailed performance analysis and computational fluid dynamics to enhance the safety, performance and functionality of each vessel. Such is the quality of the software developed, that the Company has now a separate team charged with the commercialisation of these tools.
While much of their work has been focused on the cruise industry, the team is currently working on the restoration of a Clyde steamer, the TS Queen Mary. Originally launched in 1933 the TS Queen Mary measured 871 gross registered tons, was powered by three direct-drive steam turbines, carried 2,086 passengers and was the largest steamship on the River Clyde.
The vessel was taken out of service in 1976 and was taken to the river Thames in London where she operated as a static restaurant, before being scheduled for the scrapyard in 2015. The charity, Friends of TS Queen Mary, was set to rescue the vessel and she returned to the Clyde in 2016. Since returning home, the charity has been busy fundraising to preserve and restore the vessel as a static attraction at its new home berth at the Glasgow Science Centre. (Click here to find out more about the project).
Brookes Bell's marine consultancy team is acting as technical lead on the project, providing naval architecture and design services including structural design and stability verification work as well as reverse-engineering the whole vessel (using 3D laser scans) in AVEVA Marine software, to provide the charity with a 3D structural model for the vessel to aid preservation and facilitate steel renewals.
The marine consultancy team and Simon Mackay, senior naval architect have also been working on the installation of cofferdams for our client SeaTec Subsea – scroll down the Brookes Bell newsletter to read more
Spotlight on Asia - Crane wire rope failures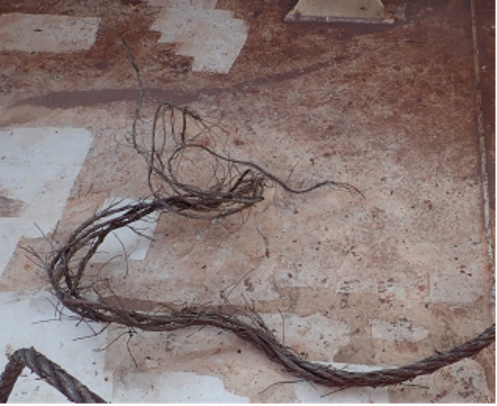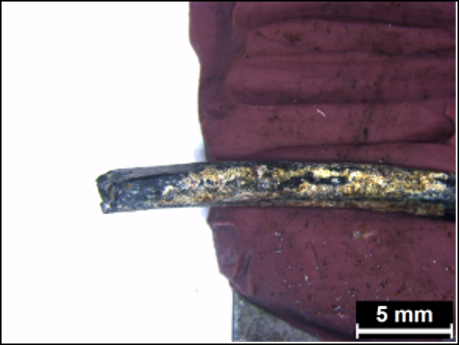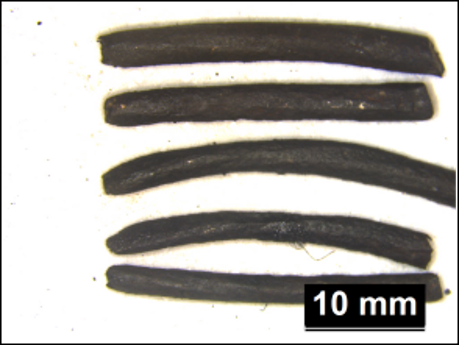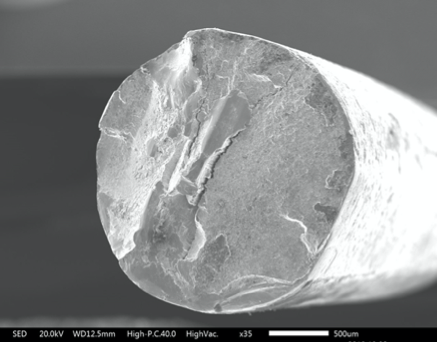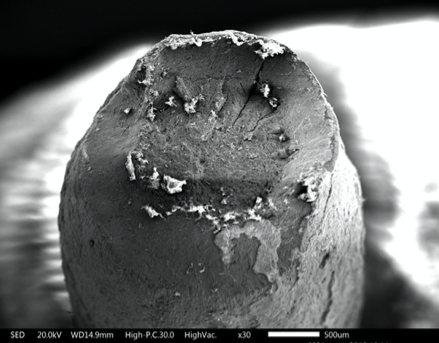 Brookes Bell's multi-disciplined team of forensic investigators and engineers assist in a wide range of incidents ranging from hull and machinery failures to specialist crane investigations, forensic engineering investigations and technical management and they routinely provide expert witness evidence in court and arbitration proceedings.
Our experts provide prompt and accurate preliminary advice, which is followed up with detailed forensic analytical analysis, combining skills such as engineering, metallurgy and high-end computational analysis as required by each individual case. Here, in a great example of how our departments work together, Kim Chua, a metallurgist with Brookes Bell in Singapore, talks about investigating crane wire rope failures.
When one thinks of crane wire rope failures, you would commonly imagine dangling wires with frayed ends, but wires don't always fail in a single, straight piece.
At Brookes Bell, we have seen a variety of crane wire failure cases. These failures have resulted in damage to equipment, ship structures and loss of cargoes. Most importantly, wire rope failures can potentially endanger those nearby and may even lead to the tragic loss of life.
Whenever an incident occurs, we always ask our clients to document the casualty and take plenty of photos. If they were present during the incident, it's best to capture what has happened as soon as possible – from a safe distance, of course! These photos and videos will serve as important evidence and provide valuable details, helping us to determine the root cause of the incident.
Just like forensic investigators, we start by looking for clues when we arrive at the scene. In the example of a crane wire failure, this can be either on board the vessel, in a warehouse if the parted ends have been brought to land, or at a testing facility.
We are most interested in the condition of the parted ends, because this usually tells us what may have happened during the incident. We will also undertake a close-up examination of the broken tips because there will be tell-tale signs of what the rope had experienced just before it failed.
The overall condition of the wire gives us a good idea of the rope condition: what is the affected length and area of the wire that is broken, are there any deformities, are there signs of a change in diameter or any indications of corrosion? Besides collecting evidence onsite and recording our observations for information, we also carry out further laboratory tests to "diagnose" the root cause. These usually involve a close-up visual examination of the wire, and high magnification microscopic examination using optical microscopy and scanning electron microscopy, as well as mechanical testing to test the physical properties.
For example, when we perform a cross-sectional examination and unravel the wires to check the wire's internal condition and construction, this provides us with further information about the level of degradation to the wire rope and how well the rope was maintained, since any loss of metal or internal corrosion could reduce the wire rope's loading capability. It is also important to check the wire's construction as wires with the same diameter may have different load-bearing capacities as a result of different wire rope construction configuration.
We will then follow up with the examination of the broken tips along the parted ends using stereoscopy, which gives us up to 80- or 100-times magnification, depending on the equipment. This allows us to have a much closer examination of the failed ends so that we can check for wear, corrosion or any visible cracks.
Next, we examine the selected individual wire cross-sections even closer using an optical microscope. Under a magnification of up to 500-times, we can determine whether the material had experienced any fatigue or any tensile overload.
We can also chemically etch the polished cross-sectional surface to reveal its microstructure or the microscopic grain textures, which can reveal any latent defects in the material. It will show any deformation to the grains, particularly if the wire had undergone plastic deformation or a permanent stretch before it failed.
Aside from optical microscopy, we carry out fractography where we examine the fracture surface. Using the scanning electron microscope, we examine the fracture surface at even higher magnifications of over 1,000 times. This allows us to see clearly any features or evidence of mechanisms such as fatigue striations, or shear, where the materials have been overloaded at crossover points between wire to wire contact.
Last but not least, we can carry out hardness and chemical composition tests to confirm the steel material and give additional information about the steel grade to help us determine whether these are factors which contributed to the failure.
From these tests, we can then determine the mechanism of failure. Having determined the mode of failure, using the input of Marine Engineers and/or Master Mariners, we combine the results of our test and examinations with a review of the documents and photographs provided, and from this combined exercise, we can then arrive at a firm conclusion on the likely cause of failure.
Installing cofferdams in Canada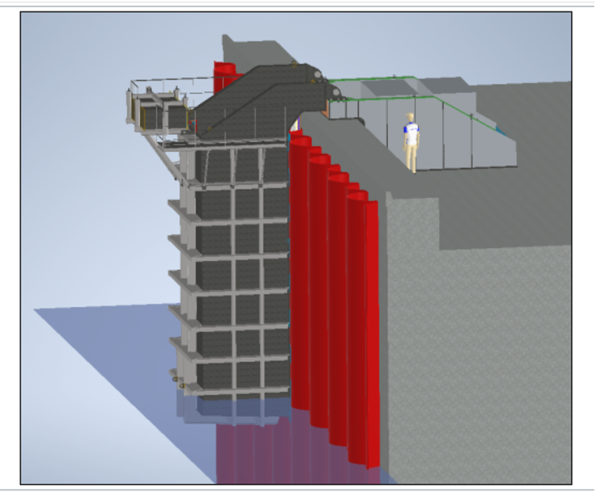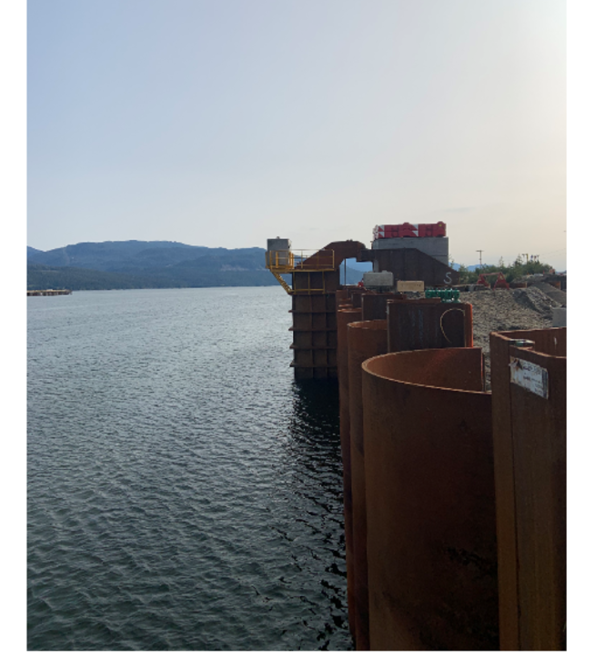 Simon Mackay, senior naval architect has recently returned from British Columbia, Canada, where he worked with our client SeaTec Subsea on a project to design and install a cofferdam.
SeaTec Subsea is the marine and offshore industry's leading IRM (inspections, repairs and maintenance) subsea services provider for all vessels, floaters, rigs and platforms. Brookes Bell has worked with the company on a number of projects – providing design work and onsite assistance - over the last few years.
Simon explains; "Working in cooperation with SeaTec Subsea, the project was to design and oversee the installation of a cofferdam at various locations along a newly constructed quay wall. The client needed a dry environment throughout the large tidal cycle so that support brackets could be welded to the newly installed piles, with fenders subsequently attached to these brackets."
1A cofferdam is an enclosure built within or across a body of water, allowing the enclosed area to be pumped out, creating a dry environment for work to be carried out safely.
There were 35 fenders to be installed in total so two cofferdam systems were fabricated, with each used at multiple locations. Brookes Bell's naval architects Andy McGibbon, David Brown and Simon Mackay had designed the cofferdam system at the beginning of 2020, and the structures were fabricated in China in accordance with the team's drawings, before being transported to the site. Due to the restrictions on how the cofferdam could be secured in position, a novel ballasting system was devised so that no divers were required during the installation procedure.
As the designer, Simon attended on site with SeaTec Subsea, to prepare the installation procedure, assemble the various components and oversee the successful trial installation. During the preparation phase he also verified a design change to the cofferdam, as a result of a last-minute change in the operational parameters from the client.
He commented: "The Covid-19 restrictions meant that the trip was a bit longer than normal as I had to quarantine for two weeks on arrival into Canada, then I was on site for two weeks, followed by another two week quarantine on my return to the UK. Onsite we were all careful to observe the social distancing measures. The novel design of cofferdam worked very successfully, even with the client's last minute change to the design. The trip demonstrated that despite the strange times we all find ourselves in as a result of the global pandemic, we have a strong and productive working relationship with SeaTec Subsea."
The cofferdams are likely to be in use until early spring, and Brookes Bell will continue to be on call to offer remote assistance with any technical queries as the project concludes.
Brookes Bell webinar series: The Bank Effect, 3 December 0900hrs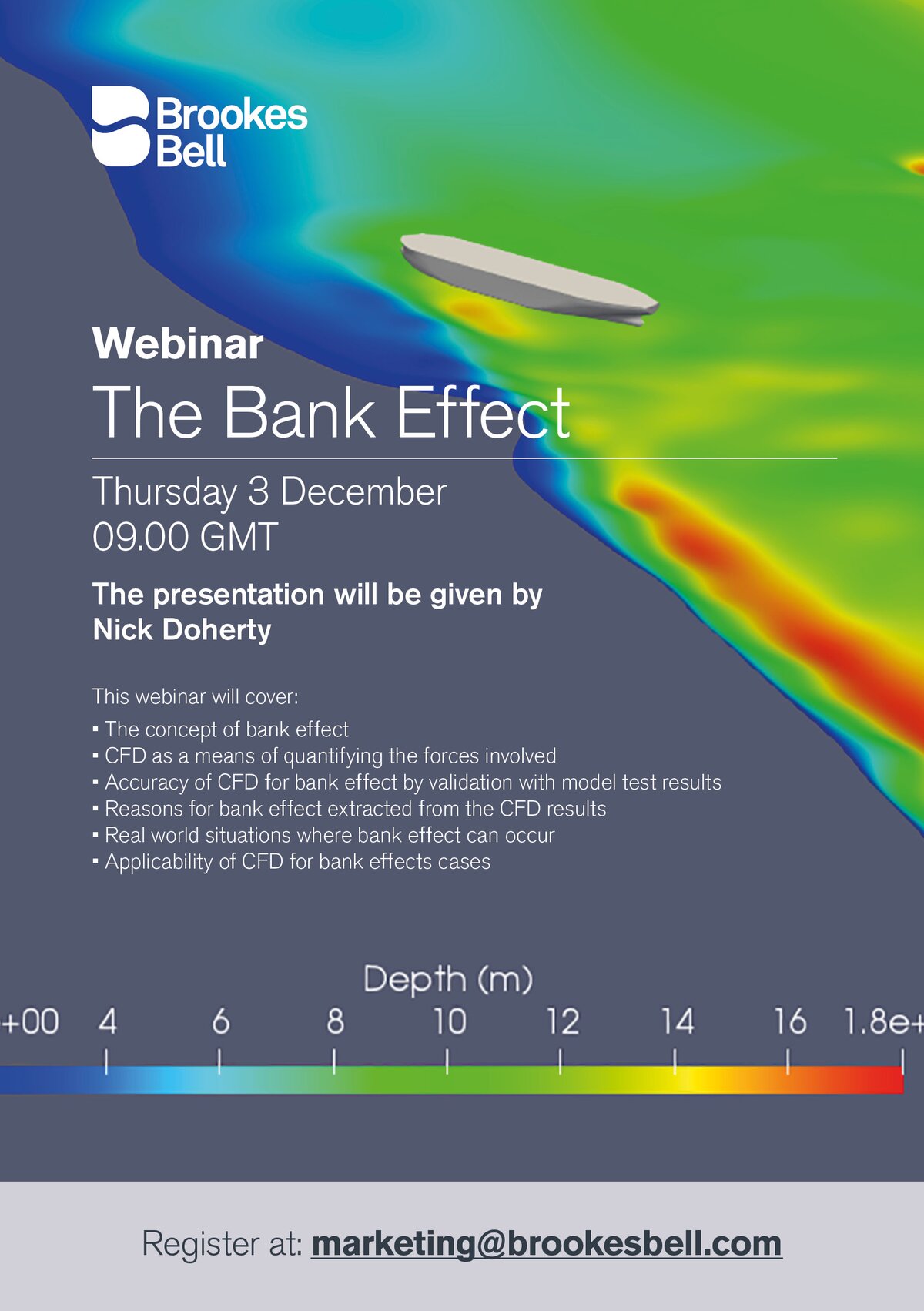 The next webinar in our monthly series features Nick Doherty, mechanical engineer and expert on computational fluid dynamics (CFD) discussing The Bank Effect - - the tendency of the stern of a ship to swing toward the near bank when operating in a river or constricted waterway.
Nick's presentation will cover; the concept of the bank effect, CFD as a means of quantifying the forces involved, the accuracy of CFD for bank effect by validation with model test results, reasons for bank effect extracted from the CFD results, real world situations where bank effect can occur and the applicability of CFD for bank effects cases. The presentation will be followed with a Q&A session.
The webinar is taking place on Thursday 3 December at 0900hrs (GMT), to sign up just email: marketing@brookesbell.com
Meet the Team – Karwei So, Scientist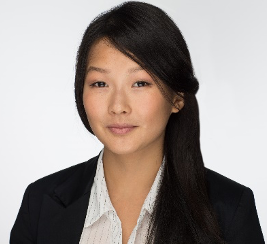 Based in Hong Kong, Karwei has been a scientist with Brookes Bell for almost two years. Having grown up in the UK with parents from Hong Kong, Karwei is not a stranger to the region, having spent many family holidays there.
I graduated with a master's degree in Chemistry from the University of Durham and completed a DPhil in Materials Science at the University of Oxford, but never considered working in the maritime industry. I was keen to remain in science but did not want to pursue a career in academia.
When I was offered the opportunity to work at Brookes Bell Hong Kong, I welcomed the chance to learn about a new industry. Nearly two years on, it's broadened my perspectives dramatically. Like so many other people, I never understood how vitally important the maritime industry is!
It's been a steep learning curve as there were so many new shipping concepts that I have had to pick up. Thankfully, everyone has been more than willing to show me the ropes and that gave me confidence to learn quickly.
My first overseas assignment was with my mentor Tim Moss, Director of Science Asia, it was a visit to Taiwan for a vessel that had developed a dangerous list on route to China and had to divert as an emergency. The cargo was one that was liable to liquify and had a dangerously high moisture content. While I was on site and helping take samples, I could actually see the motion from the excavator causing the cargo to liquify underneath.
Since then, I have attended many surveys and investigated claims independently, my scientific knowledge and background in chemistry and materials science gives me a much deeper understanding of the cases I'm working on.
Due to the nature of the job, I have come to understand that not all cases are as straightforward as they seem, and one often has to think on the spot. For example, when coal undergoes oxidation, it consumes oxygen, leading to carbon dioxide and carbon monoxide being released. In such cases, it is important to seal the hatches to prevent oxygen from entering, to prevent further oxidation and/or combustion. However, when methane is emitted, ventilation must be prioritized instead, to remove the potentially explosive gas.
Further complications arise when both methane and carbon monoxide are emitted, as they require apparently contradictory actions. It can be hard for the Master to make a judgement and ensure the safety of the crew and vessel.
This is when Brookes Bell comes in, we can advise on the best course of action depending on the relative levels of the different gases and the nature of the coal, to make an informed decision.
More recently, I have been busy with cargo claims involving soybeans, rice, maize and containerized goods as many vessels have been delayed due to port congestion as a result of Covid-19.
Before the pandemic I was able to travel around the region, visiting countries such as China, Japan, and South Korea to investigate different cases – an aspect I particularly enjoy as I can get to see the world at the same time as doing my job.
I also really value the close-knit team at Brookes Bell, which has guided me a lot since I started my work here. In fact, the staff at Brookes Bell Hong Kong regularly hang out together outside work hours. We have enjoyed occasional BBQ sessions and regularly go on cycling and hiking trips in our free time.
This team spirit is also evident when I go out for surveys; I can always seek advice from the cargo scientists or other disciplines across Brookes Bell if needed, pulling in a whole range of different expertise to suit the requirements of the job.
---