Supporting Master Mariners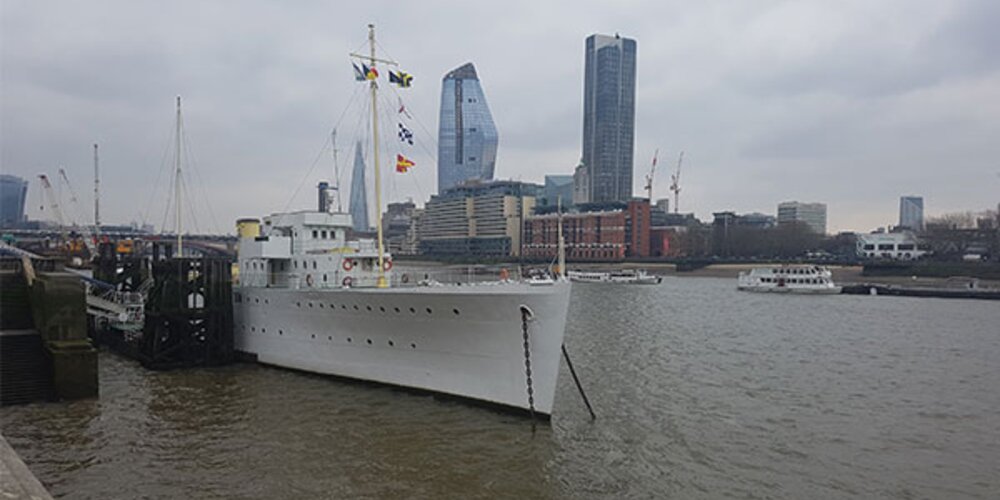 Brookes Bell has over 20 Master Mariners, with extensive practical experience and direct command experience on almost every type of vessel in almost every situation. Our seafaring experience is what makes us so well placed to advise on a range of incidents - everything from collisions and groundings to salvage and wreck removals, dock damages, piracy disputes, speed and consumption disputes, and stowage/securing arrangements for project and general cargoes and casualty project management.
As a result of their seafaring careers, many of our experts are also members of the Honourable Company of Master Mariners (HCMM), a livery company [CS1] in the City of London - based on a Grimsby class sloop on the Thames - the HQS Wellington. The Honourable Company of Master Mariners has three objectives, and all the members contribute and support these objectives:
To encourage and maintain a high and honourable standard of ability and professional conduct in the officers of the British Merchant Navy
to promote and maintain in all respects efficient and friendly cooperation between the Merchant Navy and the Royal Navy
To provide advice and consultation on all questions concerning or affecting the Merchant Navy, or judicial, commercial, scientific, educational or technical matters relating thereto.
Brookes Bell is proud to support the HCMM, and our staff regularly attending the monthly networking and extremely sociable curry lunches, as well as contributing to the fostering of young talent, and promoting maritime sector careers to young people.
Members of the HCMM often advise on technical and professional activities of the merchant navy, they may advise Government on behalf of seafarers and have generated advisory guidelines and contributed to industry committees on many issues. Several of our HCMM members have also acted as mentors for young people starting out their careers in the Merchant Navy, advising and supporting cadets aspiring to be ships officers and ultimately Master Mariners themselves.
Adrian Scales, Director of Nautical, Chartered Master Mariner (CMMar), FNI, Member of the Lloyd's SCR Panel and liveryman of the HCMM says: "Seafaring is not an easy life, but the knowledge and experience gained is absolutely invaluable in so many maritime roles onshore. For us at Brookes Bell, being part of the HCMM offers a good opportunity to support the wider maritime industry with our expertise and to 'give something back' to younger people just starting out, as well as being an extremely social organisation."
---
Livery companies are a form of guild based in the city of London dating back to the 12th century: https://en.wikipedia.org/wiki/Livery_company.