Australia's Largest Catamaran Launched by Echo Yachts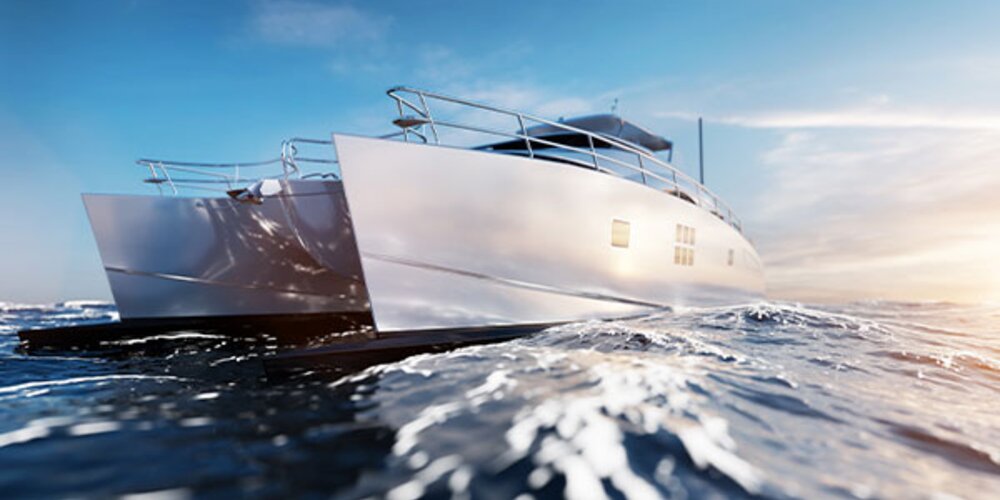 Echo Yachts has launched the 56 m M/Y Charley 2 which has taken the title of Australia's largest adventure and support catamaran.
According to a statement released by Echo Yachts, at 56 m length overall, a volume of 1,041 gross tonnes, the Charley 2 is the largest catamaran motor yacht ever built in Australia and is the second-largest superyacht built at Echo Yacht's shipyard near Fremantle.
The aluminium-hulled Charley 2 is a much larger variant of Echo Yacht's Charley - which has a composite hull and measures in at 50 m overall length and a volume of 701 gross tonnes.
Echo Yachts has also stated that Charley 2's aluminium hull is custom-designed to improve hydrodynamic efficiency. As a result, the catamaran is able to make use of much smaller engines to propel it.
The Charley 2's larger size means it can provide significant space for interior accommodation, outdoor entertaining areas and much larger water-toy carrying capacity.
The yacht also includes a 12 m custom-built catamaran tender on a launch and retrieval platform at the stern of the vessel. Charley 2 is also equipped with a large helicopter pad, dive store, decompression chamber and specialist sonar equipment.
The Director of Echo Yachts, Mark Stothard, announced the launch of Charley 2 saying:
"It's a very special day for the teams at Echo Yachts… She sits perfectly on the design waterline and is one of the most complete vessels I have seen at launch. A few weeks of commissioning and trials, and then she will be off on her first adventure".
It is expected that sea trials will begin in September. Should these prove successful, delivery will follow a few weeks later.
Superyacht consultancy services
Brookes Bell has experience supporting superyacht owners throughout the entire superyacht lifecycle.
Our global, multidisciplinary team can assist with a wide range of services including (but not limited to); new build services, superyacht surveys, corrosion under insulation surveys, dispute resolutions, claims management, marine casualty and fire investigation, salvage and wreck removal and more.
For more maritime industry insights, news and information, read the Brookes Bell News and Knowledge Hub…
Superyacht Fires: The Importance of Proactive Risk Mitigation | Rolls-Royce Opens New €30m Yacht Engine Plant | Sailing Cargo Company Marks Debut Voyage
Author

Andrew Yarwood

Date

05/09/2023