Graduate apprentice recruitment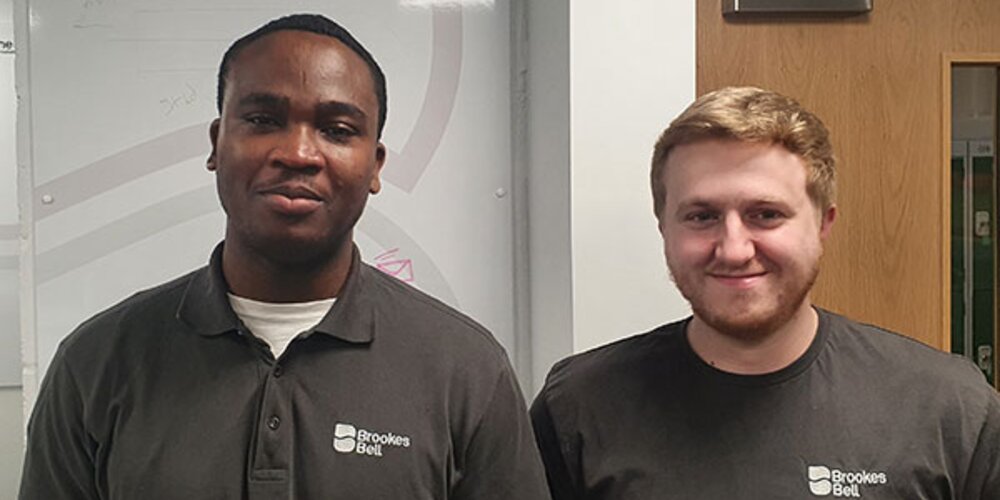 Brookes Bell has welcomed two graduate apprentices to The Lab, both of whom will be working towards their Non-Destructive Testing (NDT) level three examinations as Brookes Bell's NDT services go from strength to strength.
Justice Egemonye and Luke Kieran joined Brookes Bell at the end of last year and have been working in The Lab getting to grips with the specialist equipment and learning about the operational challenges, specialist software and analytical processes.
Luke Kieran studied construction management at Liverpool John Moores University and then worked for three years project engineering for carbon steel frames for Hinkley Point C, while Justice Egemonye joins Brookes Bell on the completion of his degree in Mechanical Engineering at the University of Liverpool.
Led by Arron Jackaman, Senior Inspection Engineer, the team uses the finest state-of-the-art inspection equipment combined with advanced analytical solutions to deliver innovative responses to complex industry inspections, effectively evaluating material quality and performance.
Justice Egemonye, Trainee NDT Engineering Technician says: "I got interested in NDT in my fourth year, we discussed it in lectures and I went and researched more because it sounded so interesting, I'm really pleased to have joined Brookes Bell, this is a fascinating opportunity with really good prospects."
Luke Kieran adds: "I first discovered NDT when an engineer came to my workplace to conduct some inspections, we got talking and I've been wanting to find out more ever since. At the moment, Justice and I are working through a big pack of naval architecture drawings, using various software to collate the data and transpose them into CAD drawings, it's like doing a mock survey learning about ship construction and design, not having worked in maritime before it's a lot to get your head around!"
The NDT apprenticeship is full time, with study alongside practical work and NDT examinations in due course. The sector is growing and Brookes Bell is increasingly instructed by clients all around the world because of the company's industry leading approach.
The apprenticeships will last for 30 months in total with the candidates gaining ISO 9712 PCN Level 2 Certification in both basic and complex testing methods. The work will span the marine, offshore, energy and petrochemical sectors and will encompass a range of theoretical and practical NDT methods, including liquid penetrant testing, visual testing or magnetic particle testing, ultrasonic thickness measurement, ultrasonic testing of welds, and eddy current testing (welds/tubes)
Anthony York, COO, Brookes Bell adds: "Brookes Bell is leading the industry in its application of NDT techniques and analysis, we are innovating, learning and developing this discipline in ways no one else in the world is. Through our graduate apprenticeship scheme we can build the team we need to effectively meet our business objectives."
Arron Jackaman adds: "As a business with an increasing amount of NDT work across many different sectors, the apprenticeship scheme helps us to address the industry-wide skills gap, allowing Justice and Luke to develop skills and knowledge directly relevant to their jobs, so they can build solid careers where the sky really is the limit."