World's Largest Battery-Driven Vessel to Be Built in Australia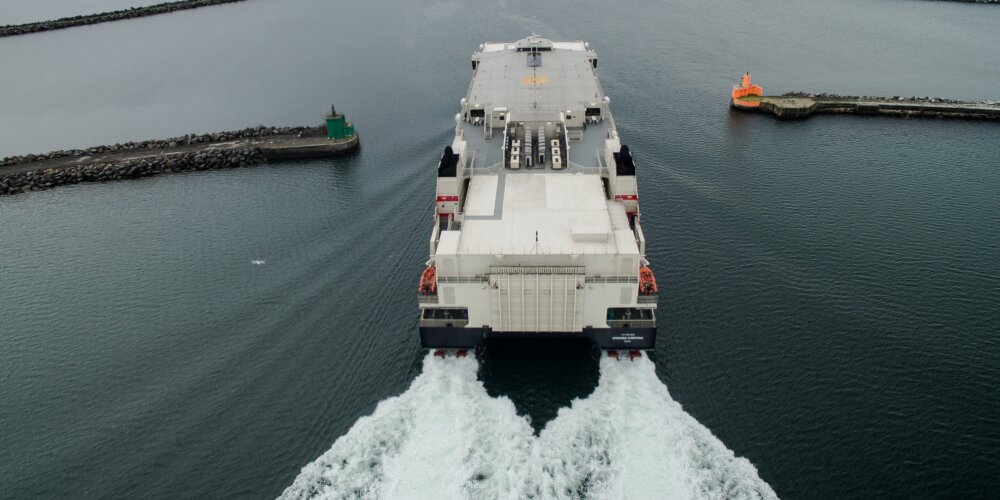 In what will be a major milestone in the decarbonisation of the shipping industry, the world's largest battery-driven vessel is being constructed in Australia. The vessel, which will be a lightweight ferry, will have a total passenger capacity of 2,100 passengers and crew and 225 cars.
Companies involved in the project include the shipbuilding company Incat, technology group Wärtsilä and battery company Corvus Energy.
The ferry, which is being built for South American customer Buquebus, will be 130m in length and will feature a 40MWh battery energy storage system (ESS). The scale of this battery energy storage system makes it four times larger than any battery installation that has been constructed and installed anywhere in the world for the marine transport environment.
Aside from the scale of its energy storage system, the vessel will also have a number of other firsts to its name, including, 'the longest zero-emission journey, at the highest speed, and it will be charged with the world's highest capacity chargers'.
Whilst the vessel is being constructed by Incat at their Tasmanian shipyard, the battery energy storage system is being provided by Corvus Energy.
In turn, this battery energy storage system will supply power to eight electric motors, eight Wärtsilä axial flow WXJ1100 waterjets, and a ProTouch propulsion control system - all being supplied by Wärtsilä.
Commenting on the project, the founder of Incat, Robert Clifford, said:
"We are proud to be building in Tasmania this first in class ship for Buquebus who, like us, share a vision to be at the leading edge of low emission shipping in the world. Incat has always been an innovator and once again we are leading the world and the world is taking notice".
Clifford's comments were echoed by Halvard Hauso, a commercial director at Corvus Energy, who said:
"This groundbreaking project marks a turning point in the maritime industry's effort to transition towards greener means of transportation. Combining cutting-edge technology, environmental consciousness, and innovative design, it redefines the future of ferry operations worldwide and paves the way for other large, zero-emission vessels".
Commenting on their contribution to the project, Roger Holm of Wärtsilä, said:
"The eight e-motor waterjet propulsion configuration is the most efficient available on today's market for this speed range and type application while boasting all the benefits from Wärtsilä's axial flow waterjet technology - low weight, shallow draft, superb manoeuvrability, and low maintenance".
The new vessel is expected to enter operation in 2025 and will operate between Argentina and Uruguay.
Brookes Bell: your marine engineering experts
As the maritime industry transitions towards cleaner, more eco-friendly forms of propulsion, it's vital that you have the very best maritime engineering expertise on your side.
Here at Brookes Bell, our marine engineers are able to advise on a broad range of issues - from the technical management of your vessels to forensic investigations of machinery failures.
For more maritime industry insights, news and information, read the Brookes Bell News and Knowledge Hub…
Grimaldi Introduces the World's Greenest Ro-Ro Ships on Intra-Europe Route | Future Proof Shipping Launches Its First Hydrogen-Powered Inland Container Ship | HD-HHI Orders Waste Heat Recovery Systems for Maersk New Builds
Author

Adam Whittle

Date

12/10/2023