Future Proof Shipping Launches Its First Hydrogen-Powered Inland Container Ship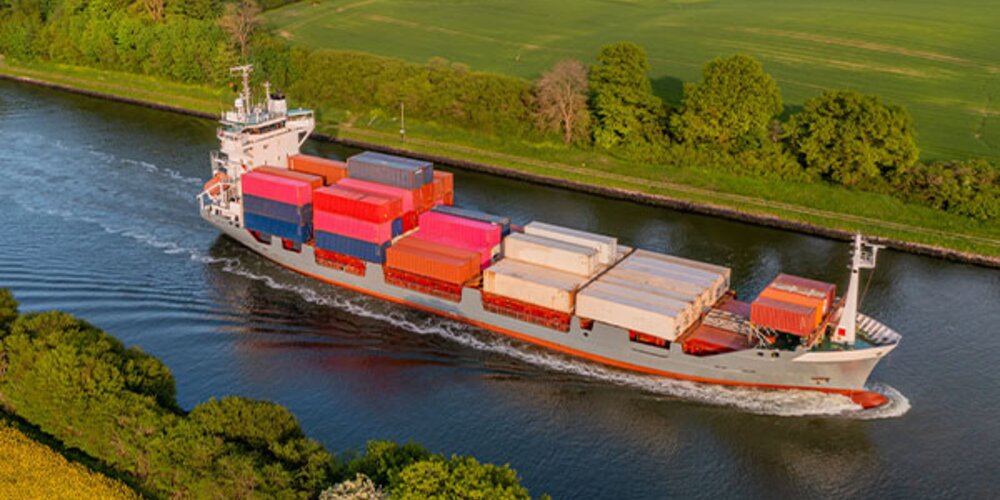 Dutch company, Future Proof Shipping, has launched its first hydrogen-powered inland container ship, H2 Barge 1. The launch of the ship forms part of a collaborative project with athletics and lifestyle brand Nike, which is aiming to make its logistics activities 'zero carbon'.
The collaborative project involves Future Proof Shipping (FPS), Nike and the BCTN Network of Inland Terminals (which represents terminals throughout the interior of the Benelux region).
The H2 Barge 1 is a 110 m x 11.45 m inland container ship which is chartered by BCTN on behalf of Nike. It is expected that the H2 Barge 1 will reduce greenhouse gas emissions by 2,000 tonnes of CO2e per year. It will sail between Rotterdam and BCTN's inland terminal in Meerhout several times a week.
Commenting on the launch of the vessel, FPS' CEO Richard Klatten, said:
"We have been working for a couple of years now to ensure we tread more lightly on the planet. This shipping project proves that moving cargo with zero-emissions and zero impact is possible, and we hope it accelerates the industry to follow in Nike's footsteps and move to zero.
I would like to thank our dedicated FPS team, our founder Huib van de Grijspaarde for his unwavering belief in us and the project and all our trusted partners for enabling us to see it through.
This is a pivotal moment, not just for Future Proof Shipping but for the future of shipping".
Ed Mukhtar, Vice President Operations & Logistics, Nike EMEA, added:
"Nike's ultimate goal is to create a zero carbon, zero waste future. We've been on this journey for decades, and we're setting even bolder goals for the future.
The H2 Barge 1 is an important example of how we are investing in sustainable progress across logistics and transportation to protect the environment for future generations".
Future Proof Shipping is aiming to design, build and operate a total of 10 zero-emission inland and short sea vessels over the next five years, which they will offer for charter to logistics service providers and cargo owners.
Ensure your vessels are fit for the future with Brookes Bell
As more and more advanced technologies come into operation on vessels, it's vital you have the very best marine engineering talent to hand.
Brookes Bell's team of experienced, time-served marine engineers can support you with a wide range of issues, including; machinery failures, crane incidents, and the technical management of vessels.
For more maritime and energy industry insights, news and information, read the Brookes Bell News and Knowledge Hub…
HMM Orders Nine Methanol-Fuelled Containerships | Shipping Industry Should Expect a 'Multi-Fuel Future' According to New Survey | Samskip Announces Next-Generation Zero-Emission Short Sea Container Vessels
Author

Adam Whittle

Date

13/06/2023