Brookes Bell Celebrates a Decade in Asia: Interview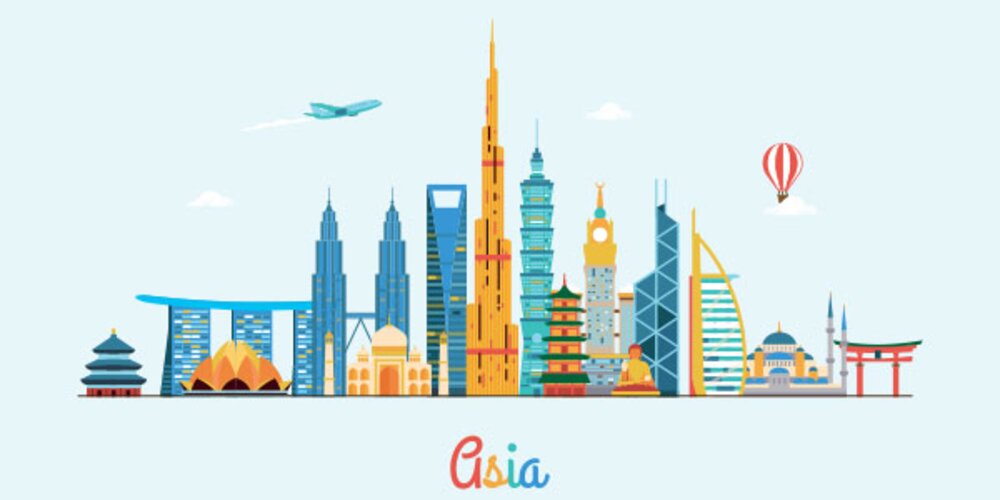 As one of the world's leading scientific and technical consultancies to the maritime industry, Brookes Bell has a global presence; and it's a presence which is well established with the company recently celebrating over a decade of operations in Asia.
We sat down with John Gibson, Director of Asia, Dr. Tim Moss, Director of Science Asia, and Lee Lewtas, Managing Marine Engineer, to find out more about Brookes Bell's history in the region.
Note: this interview has been edited for brevity and clarity.
Brookes Bell's first tentative steps into Asia
The story begins around 35 years ago, with a small office in Hong Kong, servicing the bustling maritime industry in the region.
John recalls how the office was staffed by Bob Vart, John Third, and Arthur Todd amongst others.
The Hong Kong office was staffed by UK nationals as the P&I clubs' insisted that a UK representative cover the majority of high-profile matters. This was so that when arbitration began, said representative would be available in the UK to provide expert witness support.
Unfortunately the office in Hong Kong was not sufficiently profitable, and thus the office was eventually closed, explains John.
And things went quiet for Brookes Bell in Asia… for a while.
Asia's economic boom: Brookes Bell goes to China
Fast forward to 2010 and the economies of Asia - most notably China - had become global powerhouses, with nearly double-digit GDP growth fuelling major expansion across a myriad of industries.
Asia's maritime industry was no exception to this growth.
John picks up the story again: "From 2007, 2008 China was saying, 'we want to build more ships than anybody else in the world'… and they started opening up shipyards everywhere.
This coupled with the demand for vessels, meant the cost of ships, such as a $40m container vessels started to increase, suddenly these were being built for $65m and the cost of ships ramped up.
But, then came the global financial crash of 2009 and the demand for new vessels reduced dramatically.
Brookes Bell started getting a lot of new build disputes. In fact, we received so many, we started stationing people out in Asia.
At the same time, we got to know a project management company in Shanghai that also did a great deal of surveying work at shipyards too. Their name was AMS Shanghai.
With the sheer volume of work coming our way, Brookes Bell decided to first have a joint venture and then acquire the firm in around 2010".
And, so Brookes Bell once again acquired a physical foothold in Asia, with a dedicated office in Shanghai, and established experts like Brendan Cuffe and Dr Nick Crouch setting up base there.
Re-entry to Hong Kong
At this point, a familiar name crops up again; Bob Vart.
After Brookes Bell had decided to leave Hong Kong, Bob and a business partner had opted to stay in the country and run their own consultancy.
All went well. Until, in 2011 Bob decided it was getting time to retire. He approached Brookes Bell and asked if they wanted to acquire his consultancy.
Enter Tim: "It was actually 10 years to the day of this interview that I flew out to Hong Kong.
We immediately set up a new Brookes Bell office in the territories where I could be closer to the existing client base in Asia with Bob introducing us to new clients".
Some time later, more of the Brookes Bell team Master Mariners Graham Hill and Richard Gains joined Tim in Hong Kong.
Other team members soon joined: "Bob, who was still working with the business, brought in Marine Engineer, Matthew Fenton. We also had Dominic Tasker, a aval Architect who joined Bob prior to me arriving. So, we had a dream team for tackling work in the area.
And, we had a great start! For at least the first three or four years, both Hong Kong and Shanghai were the most profitable offices in the Brookes Bell group. It was just perfect timing," explains Tim.
The next step: Singapore
At around the same time that Brookes Bell was re-establishing itself in Hong Kong, and with the Shanghai office settling in, the decision was taken to open an office in Singapore.
"We had identified Singapore as a location where Brookes Bell needed a presence and at the same time we wanted to expand the service offering into energy loss adjusting.
We identified some experts in the energy loss adjusting field and brought them onboard and took the decision to move ahead with opening the office in Singapore." says John.
John continues, "I was already out there on a job in around July 2012 and in the end stayed on for an extra week in order to scope out office space and other bits and pieces, with a view to eventually moving out to run the new Singapore office".
So, on the 4th October 2012, Brookes Bell PTE Ltd was formed and the new Singapore office was opened.
Brookes Bell in Asia today
What's the picture like for Brookes Bell in Asia today? John elaborates:
"Each of the offices has distinct growth areas that we're targeting. For example, within Shanghai, the two main disciplines have traditionally been cargo science and engineering. And, engineering remains the dominant work for that office; primarily related to shipyards.
The Shanghai office doesn't just restrict its cargo science work to China though. Its cargo scientists also work across the whole Asia region.
For Singapore, the biggest demand has traditionally been for our core disciplines such as master mariners and marine engineers. Since then, we've added metallurgy and fuel chemistry with demand proving strong for these disciplines.
Our Singapore office also benefits from the fact that most of the major ship owners, P&I clubs and many of the hull and machinery companies have offices here. Singapore as a shipping hub really is gathering momentum. Whilst it's always been a significant shipping hub, the government purposely intends to grow the sector over the next five years".
The changing dynamics of Hong Kong's maritime industry
It's at this point that the story changes. As it always tends to do when one area flourishes, with the growth and development of Singapore as a shipping hub, Hong Kong has seen changes to its maritime industry.
Tim picks up the story: "the riots and lockdowns that have plagued Hong Kong have resulted in significant challenges for many companies operating here, not just Brookes Bell.
With the challenges in mind we have moved to a more dynamic approach to maintaining a presence in the country. We have closed our physical office in the territories and pared back our presence so that we can more readily react to the changes which will come, but most importantly this will allow us to continue to support our clients as we have done in the past.
After all, there's plenty to be gained from working here. For example, one summer me and Nick Crouch were dealing with fifty ships between us because of an endemic issue with soya beans that year. Every ship coming from Brazil had a suspect cargo. As you can imagine, this resulted in a huge amount of work for Brookes Bell.
Hong Kong is also still ahead of other parts of Asia - especially when it comes to P&I work. Yes, Singapore is catching up, but Hong Kong is still home to many, many shipowners", concludes Tim.
Looking beyond Asia
Brookes Bell's offices in Asia don't just cover work in that region. Brookes Bell's experts that are based in Asia are often called upon to provide services beyond the region's borders. They go wherever our clients need them - even if that means boarding planes and traversing thousands of miles at short notice.
It's thanks to this flexible, client-led approach, that Brookes Bell is seeing interest from markets beyond China, Hong Kong and Singapore.
For example, both Tim and John highlight Australia as being an enticing, yet challenging, target for future work: "It's difficult to get into the Australian market due to the quality of the surveyors and other disciplines that are already there.
But, having said that, we see some really big opportunities there", says Tim.
John agrees: "We've previously worked on a number of projects along the west coast of Australia - Perth is only about a four hour flight away from Singapore - and New Zealand and Japan have been sources of work recently too".
Tim adds that, "we've carried out lots of ore-based work on the Solomon Islands and other islands across the South Pacific. The whole Asia-Pacific region has a history of commercial co-operation and has made business travel much easier for residents".
Brookes Bell in Asia then, isn't confined to the immediate areas around the Shanghai, Hong Kong and Singapore offices. The region's excellent connectivity makes it easy for the team to reach even remote destinations halfway around the globe.
Connectivity and COVID-19
Having just mentioned Asia's excellent connectivity, the team's discussion then turned to an issue which has severely dampened said connectivity - COVID-19 and the various government mandated lockdowns and travel restrictions.
"Asia has historically been one of the strongest - and most well-travelled - parts of the Brookes Bell group, however because of COVID-19 the team has been unable to travel nearly as much, with travel work being consequently quieter", explains John.
"For two years our ability to travel from place to place completely stopped," John says. "We were effectively prisoners of our own islands".
"It wasn't a complete full stop however. For example, travel within China at first wasn't restricted, and so the Shanghai office was able to pick up work across the entirety of the country", John continues.
"Ironically though, as the rest of Asia began to emerge from lockdowns, China began locking down in earnest, restricting travel between provinces.
In short, it was the lack of movement during this period - which has always been one of the strengths of Brookes Bell's Asia offices - which was a hindrance to growth plans over the past few years. Although, it wasn't just Brookes Bell impacted, but the whole industry.
Crews had to stay on vessels for enormously long periods of time, you couldn't get repair crews to go to shipyards. The industry really suffered", concludes John.
The future of Brookes Bell in Asia
With COVID-19 beginning to 'appear in the rearview mirror', what does the future hold for Brookes Bell in Asia?
"Places like Hong Kong and Singapore are beginning to lose their colonial trappings, which is creating a very different atmosphere and dynamic for the industry," says Tim.
But, John also adds a personal perspective: "Moving out to Asia has been the best thing my family and I have ever done. My daughter loves it and will probably never need to work in the UK. The standard of living is just so much better".
Lee adds the Shanghai viewpoint, saying: "As soon as my feet hit Asian ground, I've never worked so much in my life.
That's because China, as a ship repair hub - in my opinion - is the only place in the world that can do the extent of jobs that it does. Plus, China has a significant new build sector as well.
When COVID-19 first hit, myself and the other Brookes Bell team in China spent the next 18 months working and travelling continually across the country.
And I don't see that stopping. We can see that the Chinese Government is likely to be subsidising the shipyards to make them even more attractive for new build projects. So, I think Brookes Bell has not only weathered the worst of COVID-19, but we are in a position to really grow and pick up more market share in China".
Prospects for growth
Talking about plans for growth over the coming years, Lee explains that, "we have some great experienced guys staying on as consultants, and we're starting to see some younger guys step through".
Aside from the team that's in Shanghai, Lee is also hopeful about the prospect of picking up new work: "I think, after COVID-19, the whole world is in a rebuilding stage and I think Brookes Bell is so well positioned to be successful during the company's second decade in Asia.
We really are a niche, premium company that has a unique proposition - especially when compared to other competitors in the region", he concludes.
Tim echoes Lee's sentiments: "The future is looking very rosy for Brookes Bell across Asia. There's a significant amount of work around, and we are in a good position to get it".
As far as the Singapore viewpoint, John adds that: "I am doing more casualty investigation and expert witness work. However, I also want to support the growth of expertise in Asia, which is why I'm one of the founder members and committee members of the Asia Pacific Institute of Experts.
We have just issued codes of conduct for Asia courts for experts, which are being received very well by the judiciary here.
I want to ensure that Brookes Bell, not just now but going forward, has the very best experts for casualty investigation all the way up to high-court level and giving expert evidence. So, it's my intention to develop that side and ensure that the mentoring of the younger generation is still there".
With a decade of experience 'under the belt', the next decade is looking even brighter for both Brookes Bell and the broader Asian maritime industry as a whole.
So, here's to the next ten years…
Brookes Bell Asia: the go-to maritime technical and scientific consultancy
Supporting P&I clubs, shipowners, charterers, underwriters, cargo owners, lawyers, salvors, shipyards, hull and machinery insurers and government departments to solve their maritime challenges, Brookes Bell has become the 'go-to' maritime technical and scientific consultancy in Asia.
If you'd like to find out how Brookes Bell can help you, contact us today for a free, no-obligation consultation.
For more maritime insights, news and views, explore the Brookes Bell News and Knowledge Hub…
Dr Tim Moss Moves to Singapore | Cambodia Commences Construction of New $1.5 Billion Seaport | LNG and Container Ships Dominate Newbuild Orders