Zero-Emission Tugs to Be Developed and Built by UK Consortium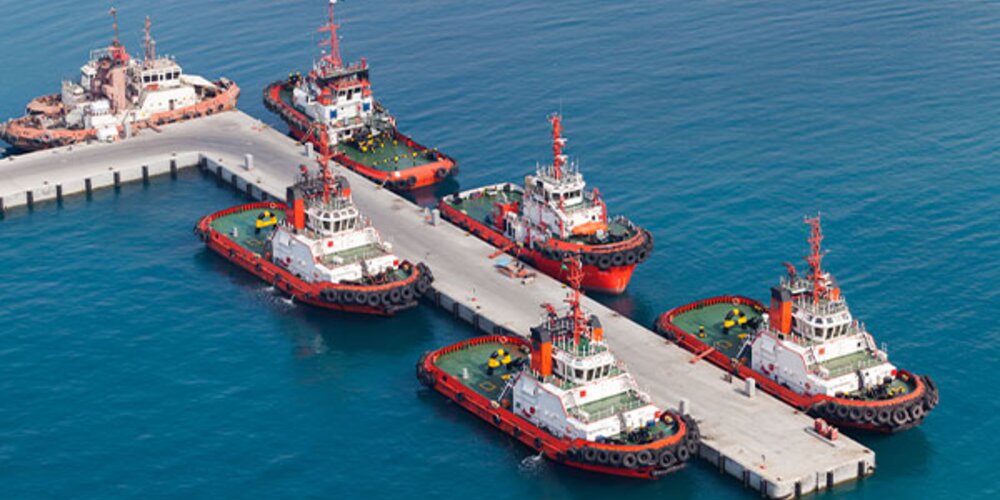 A new generation of environmentally friendly tugs is set to be developed by a consortium consisting of Harland & Wolff, Macduff Ship Designers, Kongsberg Maritime and Echandia.
Initial plans will see two tugs constructed, each of which will be zero-emission, 25.5 m long, have a breadth of 12 m, and a draught of 4.85 m. They will also have a bollard pull of 50 tonnes.
Additionally, the two vessels are expected to have Azimuth stern drives and a series of modular battery banks.
Furthermore, the consortium hopes to utilise technology transfer to develop and build the vessels using a 100% UK supply chain.
Harland & Wolff will act as project lead and builders, Macduff as designers, Kongsberg for propulsion and vessel control systems, and Echandia as battery and electrical control system specialists.
To reduce direct emissions from the vessels as much as possible, the vessels will use electric propulsion from stored battery power for day-to-day operations, backed up by generators driven by biofuel for exceptional operations or when shore charging support is unavailable.
The consortium is also hoping that the tugs will ease traffic congestion on the UK road network. As the consortium said in a statement:
'Creating environmentally-friendly tugs and a class of ultra-efficient large barges to service the UK's Marine Coastal Highway would not only ease pressure on the nation's roads and reduce emissions, but also help with Levelling Up and Net Zero ambitions.
Having the ability to efficiently move large loads on the Marine Coastal Highway would create greater opportunities for shipbuilding as well as fabrication of structures for offshore wind developments across the entire country, helping spread work beyond the industry's existing focus on the central belt of Scotland and supporting the UK's National Shipbuilding Strategy'.
Commenting on the project, John Wood, Group Chief Executive Officer, Harland & Wolff, said:
"As part of our ongoing commitment to fully embrace the UK National Shipbuilding Office's aims and in our drive to Net Zero, we are pleased to have put together this consortium.
These will be the first vessels of this type to be designed and constructed in the UK and will go on to provide firm foundations for the build of various vessels requiring this type of technology in the future.
We are delighted by the initial feedback that we have received from potential clients and look forward to seeing these vessels come to life in our shipyards".
Rear Admiral Rex Cox, CEO of the National Shipbuilding Office, added:
"Innovations such as this are crucial to us realising our decarbonisation ambitions for shipbuilding. This is an exciting project closely aligned to the vision for UK shipbuilding we set out in the National Shipbuilding Strategy Refresh.
Bringing together companies from across the shipbuilding enterprise, this consortium is demonstrating how collaboration can harness its competitive edge in the growing low emissions market".
As the project progresses it is anticipated that there will be a strong export market for these tugs. As a result, the consortium will work closely with the Department for Business and Trade to exploit export opportunities, benefiting UK jobs and economic growth.
Be at the forefront of maritime thinking with Brookes Bell
For over a century Brookes Bell has been the 'go-to' maritime consultancy for a wide range of people.
Insurers, P&I clubs, owners, charterers, underwriters, cargo owners, amending underwriters, lawyers, salvors, shipyards, government departments and more have all called upon Brookes Bell's maritime experience and expertise.
For more maritime industry insights, news and information, read the Brookes Bell News and Knowledge Hub…
Future Proof Shipping Launches Its First Hydrogen-Powered Inland Container Ship | Crowley Invests in Floating Dry Dock Developer | Samskip Announces Next-Generation Zero-Emission Short Sea Container Vessels
Author

Anthony York

Date

17/07/2023