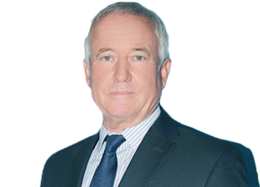 Consultant Civil Engineer
work Singapore

---
Career Summary
Donald Ross is a Chartered Civil Engineer with over 40 years of experience in project engineering and construction on international and multi-discipline projects. He is experienced in practicable application of risk management for ports and marine terminals, including bulk cargo, project cargo, container, ro-ro, oil, gas and petrochemical facilities.
---
Background
In recent years, Donald has specialised in giving expert advice regarding surveys, audits, damage assessment and repairs to ports and terminals, acting on behalf of P&I Clubs, Ship Owners, Port Owners and Operators, Lawyers and other members of the maritime community.
His previous experience was gained as a Senior Project/Construction Manager, completing the management, planning, design and construction of major ports, harbours, marine terminals, oil and gas facilities and power plants, in Europe, Africa, Middle East and Asia.
Joined Brookes Bell team to provide expert advice regarding surveys, audits, development plans, damage assessment and repairs to ports and terminals, acting on behalf of P&I Clubs, Ship Owners, Port Owners and Operators, Lawyers and other members of the maritime community.
Providing expert advice regarding damage assessments, repair plans and quantum for major incidents involving ports and terminals, at locations including Singapore, Hong Kong, Philippines, UK and Argentina. Also provided expert advice for resolution of disputes for construction disputes.
Academic Qualifications
OND Mechanical Engineering - Distinction
BSc (Hons.) Structural Engineering
Polytechnic of the South Bank - Bachelor of Science (Hons.) Structural Engineering
Hendon Technical College - Ordinary National Diploma in Engineering (Mechanical)
Professional Qualifications
Chartered Engineer C.Eng
Member Inst. Civil Engineers, M.I.C.E.
Fellow Inst. Marine Eng. Scient. & Technologists, F.I.MarEST
Graduate Member Institute of Structural Engineers
Previous Employment History
Marine Civil Engineer & Construction Manager - London Offshore Consultants Pte. Ltd.
Senior Project/Construction Manager on international marine, oil, gas and power projects in UK, Nigeria, Malaysia, Bahrain, Algeria, Oman, India, Thailand and China.
Civil/Marine/Structural Design Engineer & Team Leader in UK, Nigeria and Sudan for marine, oil, gas and commercial projects with UK Contractors and Consultants.
Construction Management on marine, oil, gas and industrial projects in Nigeria with UK and Dutch Consultants and Contractors.
Experience:
London Offshore Consultants Ltd Marine Civil Engineer and Construction Manager
Providing marine civil engineering consultancy services and expert advice on ports and marine terminals to the P&I Clubs, insurance companies, Lawyers and other members of the maritime and engineering community. Primarily concerned with marine casualties involving damages to port and marine terminal facilities and mechanical handling plant, advising on methods of repair, quantum and project management of repairs.
Initially based in London and moved to Far East, developed Thailand office and services where, in addition to civil engineering work, managed and executed Marine Warranty Services including land transportation, loadout and sea transportation for major equipment and process modules for major projects, including Pluto LNG, INPEX LNG and Gorgon LNG projects. Also developed marine specialist support for offshore drilling activities and rig moving for Chevron. In 2015, moved to Singapore office to further develop civil engineering services to ports and marine terminals.
Involved in more than 100 instructions regarding surveys, damage and repairs to ports and marine terminals in Europe and Asia, including Taiwan, Hong Kong, Singapore, Malaysia, Korea, India, Indonesia, Japan, Philippines, Vietnam, Thailand, UK, France, Romania, Algeria and Venezuela.
Air Products Senior Construction Manager
Responsible for managing all disciplines and activities. Working as part of a project management team designing and constructing industrial, Air Separation Units (ASUs) gas plants, including:
$60m Nitrogen Generator Plant for LNG Import facility at Isle of Grain, UK.
$60m, 1300 tonne per day, Air Separation Unit (ASU) in Thailand (O2 & N2).
Installation and hook-up of cold box columns at Essar steel plant in India.
Heavy lifts for cryogenic (nitrogen) tanks in Zeebrugge.
250 tonne/day ASU in France.
Responsible for safe, quality construction of ASUs, on time and on budget. Co-ordinated safe handover of the facility from construction to start-up and operations.
Alstom/Areva Construction Manager
Joined Alstom to work as a Construction Manager on new build and refurbishment of National Grid 110/220 & 400KV substations in UK. Progressed to manage construction of substations at overseas locations for major redevelopments of National Grids in both Sri Lanka and Nigeria.
Dialog Engineers & Constructors (E&C) Maritime Construction Advisor
Joined as a technical advisor in the field of Maritime Construction Management to complement an existing, multi-discipline team.
Worked on preparation and presentation of proposals for new petroleum product storage facilities at locations in Malaysia, including Penang and Tanjung Pelepas.
Petronas Gas Berhad Project/Construction Manager
Invited by Petronas Gas to manage completion of a Central Utility Facility. Worked with Petronas and their EPC(M) Contractor to achieve timely completion of the Central Utility Facility (CUF), ensuring utility supplies from the facility to adjacent petrochemical facilities as follows:
180 MW power and 900 T/h steam. 1000 T/day Oxygen, 1500 T/day Nitrogen & 30 T/day Argon. 1100 T/h Demineralised Water. 1.1 T/h Instrument Air. 21600 T/h Raw Water/Fire Water/Cooling Water. Re-cycle 603 T/h Condensate return & 950 T/h effluent.
Successfully completed start-up of all utility supplies and handed over to Petronas operational teams.
Bechtel International Limited Marine, Industrial, Oil and Gas Construction Manager
Construction/contract management assignments in England, Scotland, Egypt, India and Algeria for major development projects, including:
Marine import/export facilities for major oil refinery.
Oil-fired, steam & gas/combined cycle power stations.
High-speed railway link (CTRL).
Waste water treatment and marine discharge facilities.
Oil storage pumping and transmission facilities.
Providing construction management and marine specialist support to major projects.
Babcock King Wilkinson Marine Construction Manager
Construction of a marine export facility for a new Urea Fertiliser Plant. The marine facility comprised a 3 km land/sea conveyor carrying bagged/pellet fertiliser to an offshore loading platform from the main urea plant. The loading platform was approached in a channel and turning basin formed by dredging 600,000 m3 of material, dredged to facilitate berthing vessels up to 60,000 DWT. The dredged material was deposited on a reclaimed land area with the intention of providing a site for future development.
Ethylene Malaysia (Petronas Maritime) Marine Project/Construction Manager
Assigned to complement and ultimately lead a team managing the design and construction of a marine facility, coupled to an Ethylene/Polyethylene onshore production plant. The Kertih Port facility comprised 4 offshore berths, with petrochemical product loading arms, connected to the shore by a pipe-rack, mounted on an approach trestle.
The project protected the berths for safe berthing against the effects of the South China Seas by constructing a 1.4 km breakwater, using 2 million tonnes of rock blasted from a dedicated quarry, protected by an armour layer of 250,000 tonnes of concrete tetrapod units, manufactured onsite. The breakwater created secondary coastal erosion risks which we mitigated with associated coastal protection works along the coast, including rock groynes and beach nourishment.
Petroleum Development Oman Project Manager
Responsible for rehabilitation of oilfield camp facilities in the southern region of Oman. Developed plans from concept to execution phase to upgrade facilities to meet expanding camp requirements.
Shell Petroleum Development Company Construction Manager
Joined a taskforce in Shell to renegotiate and recover a delayed/disputed contract for the rehabilitation of failing, 270 ft. diameter, crude oil storage tanks, metering facilities and pipework on a major crude oil export facility at Forcados.
Responsible for all construction works at the terminal, including the major rehabilitation project and minor maintenance projects.
Stork Protech (UK) Ltd Marine Civil/Structural Team Leader
Member of a multi-discipline team establishing a new, computerised design facility in Lagos, Nigeria, providing "in-country" design support to the oil companies, including Shell Nigeria. As the head of the Civil/Structural team, I managed a small team providing standard designs for oil/gas, primary separation flowstations in a number of different environmental locations including coastal, swamp and land-based facilities.
The standard flowstation designs were successfully constructed in a number of locations in the Niger Delta region, based upon our designs, adapted for actual conditions.
Russell Wilson International Senior Structural Engineer and Office Manager
Office Manager and leader of a small team, executing commercial, structural and private residential development projects on the Channel Islands. Also involved in industrial development projects in Africa. Challenges involved complementing traditional construction methods with contemporary design and construction techniques.
UK Contractors and Consultants Structural Designer
Design of major "Fast Track" structural developments and refurbishment projects. Design scope ranged through new build, composite steel/concrete, pre-cast concrete, heavy structural basement and piling works to refurbishment of some interesting London, historical structures, including St Pancras Station, The Royal Mint Court & Seaman's Registry Building and Hay's Galleria structural re-developments.
W.A. Dawson Ltd Marine Structural Design Engineer
Design Engineer, working as part of a design and construct team engineering and constructing new works and refurbishment of marine facilities including an extension to Dover Harbour, replacement of lead-in arm at Immingham Docks, a new Ro-Ro Facility at Portsmouth and dock gate re-build.
Responsible for design of permanent and temporary works to facilitate construction of marine works from over-the-top methods.
Rolls Royce Ltd Project Civil Manager
Member of a team constructing a 60 MW gas turbine power station, powered by 3 x 20MW Rolls Royce turbines, powered by gas sourced form wellhead flares.
The project required construction of 350 km of associated overhead line, rural distribution network and river crossings, throughout the Niger Delta region. The project brought power to remote settlements in the Niger Delta with gas sourced from wellhead flares.
Paktank Nigeria Ltd Project Manager
Member of a multi-discipline team, managing the engineering and construction of a range of projects within the oil and transportation sectors, including the design and construction of:
US$ 250 million, nation-wide network of oil product tank farm/storage/pumping facilities for NNPC.
2 x 20 million US$ Fishery terminals for vessel offloading, harvesting, processing and packing for Department of Fisheries.
US$ 20 million river ports on the Benue River at Yola, as part of river transportation network for Ministry of Transport along the Niger river system.
Whessoe Engineering Ltd Construction Superintendent/Site Manager
Assigned to a specialist team, pioneering the repair and rehabilitation of 10 no, 270 ft diameter, 600,000 barrel crude oil storage tanks, which had failed, or become a liability, due to excessive ground subsidence and lack of maintenance.
Underpinned and re-levelled tanks, providing new bases and foundations, with all works phased, tank by tank, to continue alongside an operational terminal.
Parsons & Whitmore Lyddon Field Civil Engineer
Field engineering and supervision, working on a design, build and operate contract for a US$ 500 million newsprint development project in Cross Rivers State, Nigeria.
Responsibilities – structural works and general site works, roads and river transportation facilities, drainage, effluent treatment and discharge, water supply and storage, electrical transmission, fire mains, lighting and security.
Clarke Nichols & Marcel Resident Structural Engineer and Country Representative
Resident Engineer for construction of a 200-bed, 15-storey, reinforced concrete hotel development in Tripoli. Also represented company, in Libya, for future projects.
Norconsult/Nigerian Ports Authority Marine Civil Engineer
Dredging and Marine Works Engineer on Calabar Port Redevelopment, Cross Rivers State, Nigeria. Responsible for dredging 9.5 million cubic metres of sand, silt and clay material from the Cross River and estuary to form a 75 km access channel and reclamation of land for a port facility at Calabar in Eastern Nigeria. Buoyed the channel and planned maintenance dredging.
John Laing Construction Ltd Trainee Civil Site Engineer
Site engineer, soils technician and production controller on projects in London and Home Counties of UK, including St Thomas's Hospital Redevelopment, Hoddesdon Bypass and YMCA Redevelopment in Tottenham Court Road.
J. Ross & Sons Ltd Part-time general helper and trade trainee
General labouring and trade support duties to help family building business.