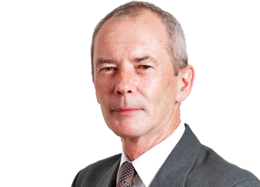 Senior Master Mariner
AFNI
work Glasgow

---
Career Summary
Graham Hill, a Master Mariner with a 23-year seagoing career, joined Brookes Bell in 2012.
---
Background
Graham Hill is a Master Mariner who joined Brookes Bell in July 2012 from a position as Joint Head of a Claims Management Office in the Far East on behalf of a large multi-national oil spill compensation fund. During his 23 years at sea, Graham served on numerous ship types, including passenger vessels, car carriers, bulk carriers, container vessels, oil tankers, gas tankers, refrigerated vessels and general cargo vessels.
Graham has 8 years' command experience on bulk carriers and car carriers. The bulk carriers were mainly operating from East Canada to the Caribbean or South America. Graham has extensive experience of ice navigation in the Gulf of St. Lawrence, as well as transiting the Amazon River as far as Trombetas.
After leaving the sea, Graham spent over 5 years employed by a leading safety, inspection and training consultancy engaged in sailing on-board various vessel types to undertake safety and condition/pre-vetting inspections, and training the crew in safety and ISM/ISPS procedures. Other typical work included internal ISM/ISPS audits and assisting the crew, during change of management or new building deliveries, to comply with Class and Flag State requirements for ISM and ISPS audits. For 2 years he was the manager of the Operations Department, responsible to the owners and managers for a team of approximately 20 marine consultants. This entailed, amongst other responsibilities, reviewing and approving all training and inspection reports, liaising with the owners and managers regarding attendance and requirements as well as costs and budgets.
Professional Qualifications
Master Mariner
MCA approved ISO/ISM Lead Auditor
Academic Qualifications
Previous Employment History
Joint Head of Claims Handling Office for a large oil spill incident on behalf of an international compensation fund.
Operations Manager, SeaTec UK Ltd., responsible for daily management of the Safety Operations department.
Marine Safety Consultant for SeaTec UK Ltd. Scope involved on-board training of ships' crews, safety inspections, ISM and ISPS audits, pre-vetting inspections and preparation for SIRE/CDI inspections. Crew training for pre-delivery new buildings and 'new to management' hand-overs. Pre-delivery and pre-purchase condition assessments.
Sea-Going Employment
Azalea Maritime – Master - A fleet of car carriers operating in the Mediterranean/North Europe area. Included self pilotage for Newcastle berths.
Denholm Ship Management – Master - A fleet of handy-size and panamax, ice class, bulk carriers operating mainly in the South America/Canada area. Extensive experience of ice navigation in the St. Lawrence and winter navigation in the North Atlantic.
Denholm Ship Management – Chief Officer - Bulk carriers and feeder container vessel.
Surveying and Consultancy Experience
Damage to and/or loss of:
Containers and/or their contents
Total loss of vessel at sea
Stevedore damages to cargo hatches
Break bulk cargoes
Minerals in bulk
Steel – unfinished, finished, structural and scrap
Wind turbine components
Overloading of and/or damage to tween decks
Project cargoes
Other:
ISM and ISPS audits and implementation on-board vessels
Personal injury
Unsafe ports
Ice navigation
Ice damage to vessel's hull and propeller
Pre-purchase surveys
Damage to various port installations and structures
Stowing, lashing and securing of break bulk and project cargo
Cargo liquefaction
Draught and deadweight surveys
Operation of overseas Joint Claims Offices, handling claims arising from a major pollution incident
General Average
P&I condition surveys